World News
VIDEO: Tragedy as pilot performing gender reveal stunt dies in plane crash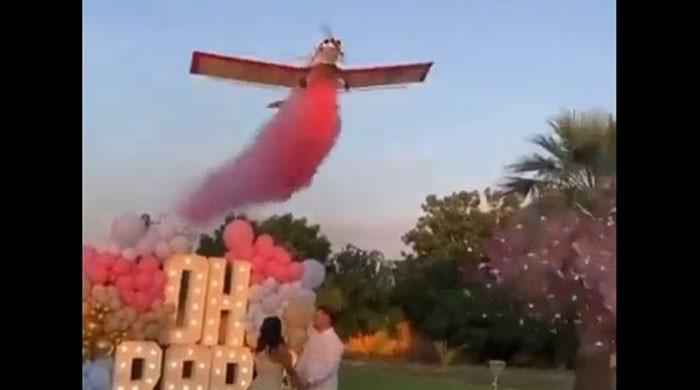 An aircraft involved in a deadly crash after attempting a stunt at a gender reveal party in Mexico ended up killing the pilot and the video of the entire incident has gone viral on the internet.
The viral video posted to X — formerly known as Twitter — shows a Piper PA-25-235 Pawnee aircraft nosediving during a stunt during a gender reveal party bringing it to a tragic end in the Mexican city of San Pedro.
The video also shows an expecting couple smiling and holding hands in front of a sign that read, "Oh baby," celebrating with their family and friends moments before the stunt plane crashed in front of oblivious guests.
The flimsy aircraft flew over a parking area before crashing into the earth while still spewing pink powder, announcing the gender of the couple's unborn child.
Although it is not clear what caused the crash, the video shows that the plane's left wing had failed and broke off.
The 32-year-old pilot, named Luis Angel N, was later found lying in the wreckage of the plane before he was rushed to hospital, where he was pronounced dead, according to NDTV.
The viral video garnered many comments from netizens.
One person wrote, "The way the camera panned back to the couple with not the slightest care in the world for the pilot is sad."
Another added: "Why do they have to do such extreme gender reveals lately? Why can't they just settle for something simple?"
"If you watch the video in slow motion you can see he pulled really hard on the stick. Overstressed the wings," the third user wrote.
Nevertheless, this is not the first time people's creative attempts at a gender reveal have turned deadly.
In October 2019, a grandmother in rural Iowa was killed at a gender reveal party after being hit by shrapnel from a homemade pipe bomb used to reveal the colour in reference to the gender of the baby, Daily Mail reported.
The explosion sent debris flying at her home, and she was struck in the head by a piece of metal from 45 feet away, resulting in her instant death.
This incident highlights the dangers of incorporating dangerous methods into gender reveal parties, as seen in recent years.