World News
World's largest rhino farm acquired by conservation NGO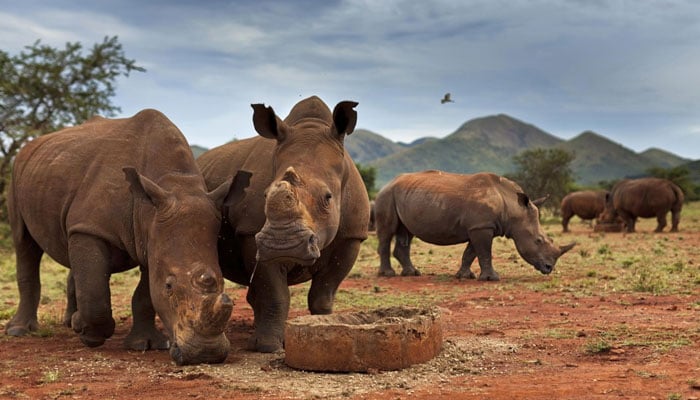 African Parks, a prominent non-governmental organisation, has taken ownership of the world's largest rhino farm, located in South Africa. 
The sprawling farm, known as the "Platinum Rhino" site, spans 7,800 hectares and currently houses around 2,000 rhinoceroses. 
The acquisition is vital for safeguarding the world's dwindling population of rhinos. 
South Africa, home to nearly 80 percent of the world's rhinos, has long been plagued by poaching, primarily driven by the demand for rhino horns in Asian traditional medicine. Last year alone, 448 of these magnificent creatures were poached across the country, only a slight decrease from the previous year. It is despite intensified protection efforts in national parks like Kruger.
Previously owned by 81-year-old South African conservationist John Hume, the rhino farm was put up for auction earlier this year. Hume had expressed his desire to find a billionaire buyer who could continue his philanthropic mission. He invested around $150 million over the years in preserving the world's second-largest land mammal. The farm's hefty expenses were primarily dedicated to security and surveillance to deter poachers.
However, African Parks stepped in as the new owner when no suitable offers were received. The NGO aims to prevent the rhinos from being exposed to greater poaching threats. The "Platinum Rhino" site is currently home to approximately 15 percent of the world's remaining wild population of southern white rhinos.
African Parks, renowned for managing 22 protected areas across the African continent, now has ambitious plans to reintroduce 2,000 southern white rhinos to their natural habitat over the next decade. 
The species, once on the brink of extinction in the late 19th century, has made a remarkable recovery thanks to sustained protection and breeding efforts.
The acquisition not only marks a significant step in rhino conservation but also highlights the ongoing challenges in protecting these huge creatures from the persistent threat of poaching in South Africa.