World News
Rain-soaked exodus begins as Burning Man revellers head home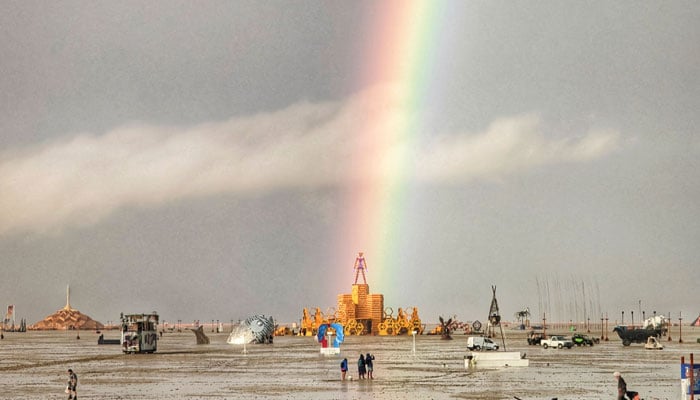 Burning Man festival-goers, who endured a soggy ordeal in the Nevada desert, have finally started their journey back home.  
Following heavy rainfall that turned the festival grounds into a mud pit, the sun has made its triumphant return to Black Rock City, where 70,000 revellers congregated. This marks the official start of the "Exodus," where attendees are making their exit.
Despite the improving weather, organisers have advised visitors to postpone their departure until Tuesday to prevent traffic jams on the way out. The downpour left many festival-goers stranded for days, with some resorting to unconventional means to navigate the muddy terrain, including using plastic bags as makeshift boots.
For some, the rain and mud failed to dampen their spirits. David Packard from South Portland, Maine, expressed gratitude for fellow campers who sheltered him and his friends from the elements. He even mentioned a brief double rainbow that lifted their spirits. However, not all festival-goers were equally considerate, as reports emerged of people leaving behind their gear, trash, and tents, contravening the festival's sustainability principles.
All scheduled events at the festival, known for its blend of counterculture and spiritual retreat, were cancelled due to the inclement weather. This included the ceremonial burning of a 40-foot effigy, which was rescheduled for Monday evening.
A significant challenge now faces the departure process, with numerous vehicles, predominantly recreational motorhomes, stuck in the muddy roads. 
The police are investigating a reported death, with no further details disclosed. The festival, which originated in San Francisco in 1986, moved to the Black Rock Desert in Nevada in the 1990s, with organisers committed to preserving the area's natural beauty.
As of midday Monday, an estimated 64,000 festival-goers remained at the site, hoping for a smoother exit from their memorable, albeit rain-soaked, Burning Man experience.