World News
What happened to this man after he went blind?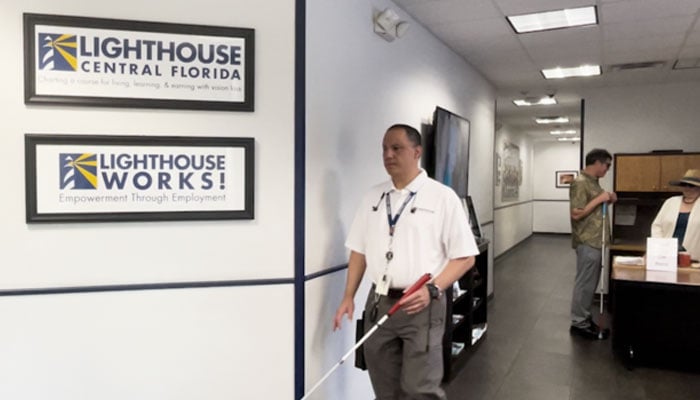 Calvin Echevarria, a man who once basked in the glow of success—a devoted family, a steady job, and the laughter of his cherished daughter—found himself confronting a life-altering challenge. His world took an unexpected turn when he lost his sight, shrouding his once-vibrant life in darkness. 
In 2005, Calvin Echevarria was leading a successful life with two jobs, a new house, and a young daughter. However, his world turned upside down when he was diagnosed with diabetic retinopathy, causing him to lose his job as a FedEx driver due to blindness. 
His primary concern shifted to providing for his family, especially witnessing his daughter grow up without him being able to see.
Echevarria initially focused on developing independent living skills, such as using a cane. Still, he desired to acquire skills for gainful employment. His search led him to Lighthouse Works in Orlando, a company dedicated to creating job opportunities for the visually impaired and blind population.
Kyle Johnson, the President and CEO of Lighthouse Works, highlighted the alarming fact that seven out of ten visually impaired Americans were not in the workforce. Recognizing the untapped potential and capabilities of visually impaired individuals, Lighthouse Works was established in 2011 as a company providing call center and supply chain services while hiring blind and visually impaired workers.
Echevarria, initially unfamiliar with blind individuals, now works in Lighthouse Works' call center alongside nearly half of the employees who are visually impaired or blind. In his role, he uses a computer system called JAWS, which reads the computer screen aloud while he listens to customer calls in his other ear, allowing him to perform his job effectively.
Despite the challenges of adapting from visual to auditory learning, Echevarria has excelled at his job, mastering the rapid pace of JAWS. He takes pride in the fact that callers on the other end of the line are unaware of his blindness. Moreover, working in an accessible office space alongside visually impaired peers provides him with a sense of purpose and pride, as he can now confidently state that he provides for his family.
What was once his fear of not being able to witness his daughter's growth has transformed into a fulfilling mentorship role, as his daughter also became an employee at Lighthouse Works. 
Echevarria cherishes the renewed bond with his daughter and the opportunity to be needed and make a positive impact on her life.