World News
Ukraine's first lady Olena Zelenska opens up about war's impact on family, relationship with Zelensky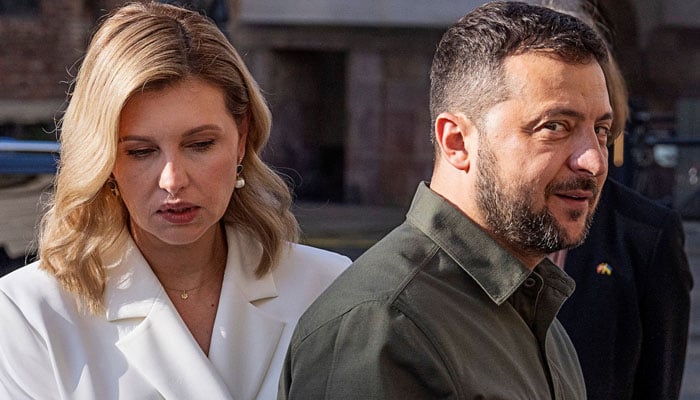 In a highly personal interview, Olena Zelenska, the first lady of Ukraine, recently discussed how the deadly war between Ukraine and Russia, has emotionally affected her family and her relationship with her husband President Volodymyr Zelensky in over a year.
During the interview, she also mentioned how much time spent as a family was missed by her family due to the war which brought the former playwright out of hiding last year, taking her places around the globe to meet with leaders and deliver speeches.
"This may be a bit selfish, but I need my husband, not a historical figure, by my side," she told BBC. "But we stay strong, we have strength both emotionally and physically. And I am sure we will handle it together," she added.
Olena Zelenska and her children spent months in hiding in covert locations after Russia invaded Ukraine in February 2022, BBC reported.
She referred to the initial stages of the invasion as having "a constant feeling of adrenaline" in her emotions adding that as time went on, she realised that it was "necessary" for her to settle down and begin coping with "the existing conditions".
"We don't live together with my husband, the family is separated," Zelenska said, "We have the opportunity to see each other but not as often as we would like. My son misses his father."
She said that her children had suffered emotionally as a result of living in such uncertainty due to the conflict.
"It pains me to watch that my kids don't plan anything. At such an age, young people. My daughter is 19. They dream of travelling, of new sensations, emotions. She does not have such an opportunity.
"There are limitations in time in what you can allow yourself, they exist, and we somehow try to live within them."
The first lady and Ukraine's President Volodymyr Zelensky, who were high school sweethearts, worked together in a comedy troupe and TV studio.
However, she now reflects on her husband's transformation into a "historical figure" and the need for him to stand by her side.
Despite what she said may be a "selfish" longing, Zelenska said the president, "really does have the energy, the willpower, inspiration, and stubbornness to go through this war."
"I believe in him. And I support him. I know that he has enough strength. For any other person I know, I think, it would be much harder this situation. He really is a very strong and resilient person. And this resilience is what we all need right now."
She has been concentrating on aiding Ukrainians in coping with the emotional aftermath of war and is currently preparing to co-host a mental health and resilience summit in Kyiv.
The other co-host of the summit will be Stephen Fry, a well-known British actor and writer who is also an advocate for mental health issues.
"I really hope that I can inspire someone, can give someone hope or advice, or prove with my own example that we live, we work, we move forward," Olena Zelenska said.
"No one can know what awaits for them. After all, no one could have imagined that in the 21st Century, that such a war would be unleashed in the middle of Europe, that it would be so cruel. A bloody war. So, I have never imagined that I would be in this role at this time."
Zelenska explained that while Ukrainians cannot be sure about tomorrow or have confidence in the future, they have hope.
"We have huge hope for victory, but we don't know when it comes. And this long wait, constant stress, it has its toll."