World News
South Africa Says Inquiry Found No Evidence Of Arms Shipment To Russia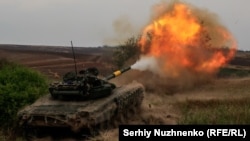 The Ukrainian Navy late on September 3 claimed its forces had blasted a Russian landing craft in the Black Sea, killing six soldiers, hours after Kyiv said its air-defense systems had shot down 22 of the 25 Iranian-made Shahed drones that Moscowa launched on the southern Odesa region near the Romanian border.
Ukraine's Navy said on its Telegram channel that its aviation forces had "destroyed an enemy KS-701 boat" attempting to land troops in the northwestern area of the Black Sea.
"The enemy suffered losses six killed and two wounded," said the statement, which could not immediately be verified.
Earlier, Ukrainian authorities said at least two civilians were injured in the "several waves of attacks" that hit a Danube River port infrastructure near Odesa and the border with Romania, adding that the strikes lasted about 3 1/2 hours.
Live Briefing: Russia's Invasion Of Ukraine
RFE/RL's Live Briefing gives you all of the latest developments on Russia's full-scale invasion, Kyiv's counteroffensive, Western military aid, global reaction, and the plight of civilians. For all of RFE/RL's coverage of the war in Ukraine, click here.
The Danube has become Ukraine's main route for exporting grain since the collapse in July of a UN-brokered deal allowing safe shipments from the Black Sea.
Russia has since increased attacks on Ukraine's southern Odesa and Mykolayiv regions, home to ports and infrastructure that are vital for the shipment of grain.
The Russian military said its latest drone strikes hit the Ukrainian port of Reni on the Danube River, on the border with Romania.
"Today at night, the Russian Army carried out a group drone strikes on fuel-storage facilities used to supply military equipment of the Armed Forces of Ukraine in the port of Reni, in the Odesa region," the military said on September 3.
"All designated targets were hit," it claimed.
At least one person was killed and six others were wounded by Russian shelling in Ukraine's northeastern Sumy region late on September 2, the regional military authorities said.
The artillery attack caused multiple explosions that also damaged private homes and vehicles, as well as the premises of a former utility company, according to local officials.
Late on September 3, Russian officials in Kurchatov in the Kursk region said a residential building had been hit by a Ukrainian drone, causing a fire, amid increased reports of Ukrainian drone attacks inside Russia.
Battlefield reports cannot immediately be independently verified.
Earlier, Zelenskiy and other Ukrainian leaders said Kyiv's forces had broken through the first and strongest of Russian defense lines during the country's renewed counteroffensive in the south.
Ukrainian forcers were approaching the weaker second line of defense, officials said, although details remained scarce.
In Russia, the deputy chairman of the Russian Security Council, Dmitry Medvedev, claimed that some 280,000 people have signed up so far this year for professional service with Russia's military.
The former Russian president made the comments in Russia's Far East, where he said he was meeting local officials to work on efforts to beef up the armed forces.
"According to the Ministry of Defense, since January 1, about 280,000 people have been accepted into the ranks of the armed forces on a contract basis," including reservists, state news agency TASS quoted Medvedev as saying.
Last year, Moscow announced a plan to expand its combat personnel more than 30 percent to 1.5 million, an ambitious task made harder by Russia's heavy casualties in its ongoing war in Ukraine.
WATCH: Medical volunteers continue to travel to villages in eastern Ukraine's Donbas region to bring care to civilians near the front line. Current Time's Boris Sachalko reports.
According to Britain's Defense Ministry, Russia in recent months has been appealing to citizens of neighboring countries with recruitment adverts for individuals to fight in Ukraine.
"There have been recruitment efforts in Kazakhstan's northern Qostanai region, appealing to the ethnic Russian population," the ministry said on its daily bulletin on September 3.
"Online adverts have been observed in Armenia and Kazakhstan offering $5,140 in initial payments and salaries from $1,973," according to the bulletin.
Central Asian migrants in Russia have also been approached by military recruiters with promises of fast-track citizenship and salaries of up to $4,160, it said.
On the diplomatic front, Volodymyr Zelenskiy's office said the Ukrainian president had discussed transport of Ukrainian grain exports and the security of the Odesa region in a phone call with French counterpart Emmanuel Macron on September 3.
"They discussed in detail the situation on the battlefield…. [Zelenskiy] conveyed current defense needs and thanked France for its strong support and constant help in expanding our soldiers' capabilities," a post on his Telegram channel said.
With reporting by Reuters and AFP