World News
Kosovo's President Accuses Serbia Of Following 'Putin's Plan' By Destabilizing Balkans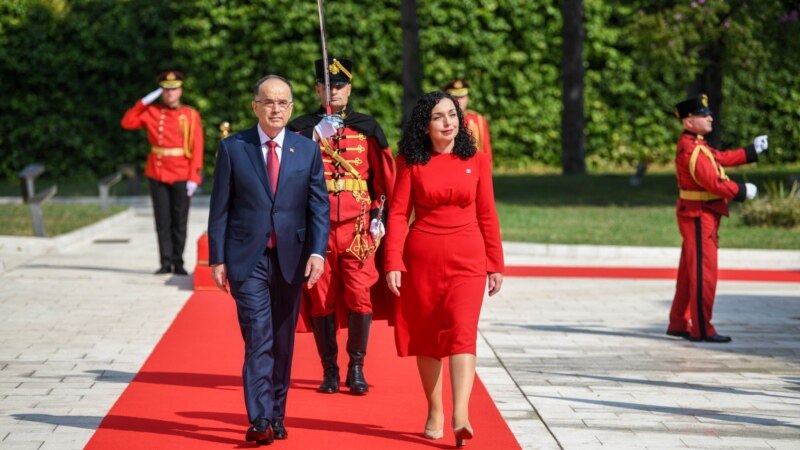 Kosovar President Vjosa Osmani has accused Serbia of trying to destabilize the Western Balkans in a similar fashion to how she said Russia acted against Ukraine in 2014.
Speaking during a visit to the Albanian capital, Tirana, on September 4, Osmani cited the conflict in eastern Ukraine's Donbas region, where Russian-backed separatists fought Ukrainian government forces, and the subsequent annexation of Ukraine's Crimean Peninsula as reference points for actions now being taken by Serbia in flashpoints across the region.
"By precisely implementing the plan that [Russian President Vladimir] Putin implemented in 2014 against Ukraine, [Serbian President Aleksandar] Vucic and Serbia are aiming to destabilize the entire Western Balkans, and through the destabilization of our region attack the values and the system of values on which the EU and NATO stand," Osmani said.
Osmani did not provide any evidence to support her claims and Serbian officials did not immediately respond to her statement.
Tensions between majority Albanians in Kosovo and local Serbs supported by Belgrade erupted into ethnic violence that injured dozens of NATO peacekeepers in northern Kosovo in late May, after municipal elections a month earlier that were boycotted by ethnic Serbs.
The United States and European Union each criticized Pristina's lack of coordination when it tried to forcibly install ethnic Albanian mayors in Serb-majority areas in late May.
Weeks later, Serbian authorities detained three Kosovar police officers near their mutual border under unclear circumstances and held them for days.
The role of Serbian agitators in the violence and tough rhetoric from Serbia's Vucic helped fuel criticism among international observers that the West was bending too much to accommodate Belgrade in the long-running spat.
Relations between Serbia and its former province have been on edge for more than two decades.
EU-mediated talks have failed to normalize relations between Serbia and Kosovo, which declared independence in 2008 and is recognized by more than 100 countries but not Serbia, Russia, nor a handful of EU member states.
In neighboring Bosnia-Herzegovina, the situation is similar with Milorad Dodik, the president of the Serb-dominated Republika Srpska, pursuing increasingly nationalist and secessionist policies while seeking closer ties with Serbia and Russia.
Kosovo's 1998-99 war of independence from Serbia left more than 10,000 people dead — most of them ethnic Albanians. More than 1,600 people are still considered missing.