World News
Russia Says It Downed Ukraine-Launched Drones Targeting Moscow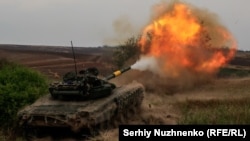 Turkish President Recep Tayyip Erdogan said after a meeting with Russian President Vladimir Putin that Ankara is against alternative proposals to the Black Sea Grain Initiative that it brokered last year with the United Nations to ensure Ukrainian grain exports to countries that need them to feed their populations.
Russia and Ukraine have proposed alternative plans, but Erdogan said the proposals "could not offer a sustainable, secure, and permanent model based on cooperation between the parties like the Black Sea Initiative."
Live Briefing: Russia's Invasion Of Ukraine
RFE/RL's Live Briefing gives you all of the latest developments on Russia's full-scale invasion, Kyiv's counteroffensive, Western military aid, global reaction, and the plight of civilians. For all of RFE/RL's coverage of the war in Ukraine, click here.
Erdogan made the statement on September 4 at a joint news conference with Putin in Sochi, Russia, where the two leaders met for three hours to discuss revising the deal, which Moscow withdrew from in July.
Erdogan helped broker the original deal, which went into effect in August 2022 and helped ease concerns about global food security by allowing the safe export of Ukrainian grain through three of its Black Sea ports.
The Turkish president said at the news conference that Ukraine should "soften" its negotiating position "in order for it to be possible for joint steps to be taken with Russia," saying that more grain needs to be shipped to Africa rather than European countries.
Erdogan told journalists earlier that he believed a solution would be agreed to "soon" regarding the grain initiative.
He said the United Nations had prepared new proposals aimed at addressing Russia's problems with the deal, which include complaints that its own food and fertilizer exports face obstacles because of Western sanctions.
"I believe that it is possible to get results. I believe that a solution that will meet Turkey's expectations will be reached soon," Erdogan said.
Putin, who spoke at the news conference alongside Erdogan, repeated Russia's position that it would be ready to return to the grain deal once all agreements relevant to the accord were fulfilled.
"We will be ready to consider the possibility of reviving the grain deal," he said. "And we will do it as soon as all the agreements on lifting restrictions on Russian agricultural exports are fully implemented."
Putin also said Russia was nearing a deal that would secure free grain to six African countries. Russia will supply the food and carry out logistics free of charge, adding that deliveries "would begin in the next couple of weeks," he said.
After quitting the deal in July, Moscow began increased attacks on Ukraine's southern Odesa and Mykolayiv regions, Ukrainian ports, and grain infrastructure on the Black Sea and Danube River that are vital for the shipment of grain.
Russia launched another massive drone strike on a major Ukrainian grain-exporting port in the southern Odesa region early on September 4, damaging warehouses and production buildings along the Danube River.
Seventeen Russian drones were shot down by Ukraine's air defenses, according to Odesa regional Governor Oleh Kiper, who also said there were no civilian casualties.
"Unfortunately, there are also hits," Kiper wrote on Telegram. "In several settlements of the Izmail district, warehouses and production buildings, agricultural machinery, and equipment of industrial enterprises were damaged."
Russia targeted another major Danube port of Reni on September 3, injuring at least two people and damaging the port's infrastructure.
The Danube has become Ukraine's main route for exporting grain since the collapse of the grain deal.
Ukraine's Foreign Ministry said Russian drones had also detonated on the territory of neighboring Romania, a NATO member.
But Romanian officials rejected the claim, saying the Russian attack did not "generate direct military threats to Romania's national territory or territorial waters."
WATCH: Medical volunteers continue to travel to villages in eastern Ukraine's Donbas region to bring care to civilians near the front line. Current Time's Boris Sachalko reports.
Ukraine claimed limited gains against Russian forces along the southern front — the focus of its counteroffensive — and took back territory near Bakhmut in the east.
"The defense forces of Ukraine are continuing offensive operations in the Melitopol sector. Our forces had success near Novodanylivka and Novoprokopivka," Deputy Defense Minister Hanna Malyar said on state television on September 4.
Ukrainian forces had also captured 3 square kilometers of territory near the war-battered city of Bakhmut, she added.
In the capital, Kyiv, officials said there had been a fresh bomb threat against all schools and colleges in the city after a similar warning last week.
"Kyiv police again received a report of a bomb threat in all schools and colleges in Kyiv," the city's military administration said on social media on September 4.
They told the public to keep calm, adding that police were taking necessary measures.
The first day back at school in Kyiv on September 1 was also marred by a bomb threat, but the military administration later said the information was not confirmed.
With reporting by Reuters, dpa, and AFP