World News
Ukraine War Spurs Jump In Usage Of Cluster Munitions, Report Shows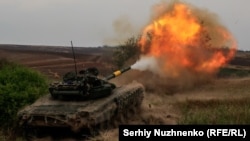 Attacks using cluster munitions by both Russia and Ukraine since the start of the Kremlin's full-scale invasion last year have helped lead to a "dramatic" increase in the usage of such weapons, highlighting the need for more countries to join a global ban.
Live Briefing: Russia's Invasion Of Ukraine
RFE/RL's Live Briefing gives you all of the latest developments on Russia's full-scale invasion, Kyiv's counteroffensive, Western military aid, global reaction, and the plight of civilians. For all of RFE/RL's coverage of the war in Ukraine, click here.
The Cluster Munitions Coalition (CMC) campaign group on September 5 released its annual report on cluster munitions, saying that in 2022 at least 1,172 people, 95 percent of whom were civilians, were casualties of cluster munitions in eight countries: Ukraine, Azerbaijan, Iraq, Laos, Lebanon, Burma, Syria, and Yemen.
"The shocking increase in new civilian casualties from cluster munitions serves as a stark reminder of the devastating impact these heinous weapons have on civilians, including children," CMC director Tamar Gabelnick said.
"All countries that have not banned these weapons must do so immediately. There can be no excuse for their continued use," Gabelnick added.
Cluster munitions are globally banned because they cause both immediate and long-term civilian harm, leaving behind unexploded remnants that act as land mines for years. A total of 112 countries have ratified a 2008 convention banning cluster munitions. Russia, Ukraine, and the United States are not among them.
According to the report, no new casualties from cluster munition attacks were recorded in 2021, although at least 149 victims from remnants of earlier cluster munition attacks were identified. In 2022, after Russia invaded Ukraine, 890 new casualties from cluster munitions were reported in Ukraine alone.
"It's unconscionable that civilians are still dying from cluster munition attacks 15 years after these weapons were outlawed," said Mary Wareham, arms advocacy director at Human Rights Watch and editor of the report.
Russia has used cluster munitions repeatedly in Ukraine since its full-scale invasion of the country on February 24, 2022, causing civilian deaths and injuries, the report said. Ukrainian forces have also used cluster munitions, resulting in civilian casualties.
The report comes after the United States announced in July that it would start sending cluster munitions to Ukraine, prompting criticism from allies and rights groups. Washington says that Kyiv needs the weapons to prevent Russian forces from halting its counteroffensive.
WATCH: Award-winning Ukrainian journalist Andriy Dubchak barely escaped with his life as he and his son came under cluster-bomb attack. The attack blew out his car's windows, ripped through the vehicle, and fragments even tore through his trousers.
Russia has denied using cluster munitions in Ukraine despite mounting evidence from Human Rights Watch and other rights groups to the contrary.
New use of cluster munitions was also recorded in Burma and Syria in 2022, the CMC said.
Cluster munitions are bombs that open in the air and release scores of smaller bomblets, many of which do not explode, putting civilians at risk long after wars end. In 2022, there were a total of at least 185 casualties from cluster-munition remnants in Azerbaijan, Iraq, Laos, Lebanon, Syria, Ukraine, and Yemen, the report said.
Children accounted for 71 percent of all casualties of cluster-munition remnants where the age group was recorded.
A total of 112 countries have ratified or acceded to a 2008 convention banning cluster munitions, while 12 more have signed it.
There have been no confirmed reports or allegations of new use, production, or transfers of cluster munitions by any state party to the convention, the report said.