World News
Francis Fukuyama Says Russia's Weakening Would Embolden Central Asia, Present Opportunities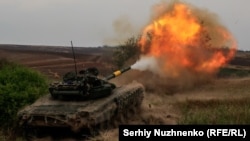 ALMATY, Kazakhstan — Renowned U.S. political scientist and philosopher Francis Fukuyama says a diminished Russia due to losses in the Ukraine war would remove any territorial threats to Kazakhstan and give Central Asian countries more opportunities to set their own policies.
Fukuyama, the director of the Center for the Advancement of Democracy and the Rule of Law at Stanford University, talked about the state of the Ukraine war, how battlefield losses are affecting Russia and its government, and scenarios for the end of the conflict in an interview with RFE/RL's Kazakh Service. He was in Almaty for the Kazakh-language release of his new book, Liberalism And Its Discontents.
War's End: The Collapse Of Putin's Regime Or A Cease-Fire?
Fukuyama added to the view he gave Current Time, a Russian-language network run by RFE/RL in cooperation with VOA, a few months ago that Russia's invasion of Ukraine was a strategic mistake, while refreshing his views on the war with the conflict's effect on Central Asian countries.
"I think that Putin thought that he could launch that so-called special military operation and the regime in Kyiv would fall in two or three days, and he can install somebody to be sympathetic to Moscow. But more than a year and a half later, the Russian Army has suffered horrendous casualties. This was a much bigger action for Russia than Putin had intended."
Fukuyama said an essential task for the Ukrainian Army was the destruction of the land corridor Moscow has established between the Russian city of Rostov-on-Don and Ukraine's Crimean Peninsula, which it illegally occupied in 2014. He said the important thing was for Ukrainian forces to cut the railway line and therefore be able to easily bombard the bridge across the Kerch Strait that provides the bulk of Russian supplies to its military.
Many authoritarian regimes look very strong until the moment they collapse.
Fukuyama said that if Ukrainian forces were able to accomplish this, "Russia's position will become much weaker. Perhaps then it makes sense to talk about a cease-fire or some conflict mitigation. But it is too early to say 1693934037 that the Ukrainian counteroffensive has failed and that there will continue to be a stalemate."
In a post on X, formerly known as Twitter, Fukuyama predicted recently that the end of the war would lead to the collapse of President Vladimir Putin's regime.
Noting the discontent in the Russian Army signaled by the failed uprising led by paramilitary leader Yevgeny Prigozhin and his subsequent death, he told RFE/RL the real threat to Putin's regime comes not from the streets but from "somebody within the security establishment."
"Many authoritarian regimes look very strong until the moment they collapse," Fukuyama said. "It's quite possible [that Putin] can manage to survive because Russia has a lot of resources, and [Putin] is a pretty clever politician."
Weak Russia Can Lead To Stronger Central Asia
Fukuyama's best-known work as a political scientist is the article and the book of the same name, The End Of History And The Last Man, published in 1992, in which he claimed that with the collapse of the Soviet Union, Western liberal democracy had triumphed as the "final" political system and thus ended "history" in that respect.
Regarding the current situation in Eurasia, the 70-year-old scholar said any weakness to the Russian regime as a result of losses in Ukraine could allow Central Asian countries more independence in formulating in greater importance.
Conversely, Fukuyama said the fall of Ukraine to Russian forces would pose a significant threat to Kazakhstan, as some ultranationalist politicians in Moscow claim parts of northern Kazakhstan should be Russian.
"Any weakening of Russia…could give Central Asian countries — and [specifically] Kazakhstan — a greater ability to set their own policies [without Russian interference]," he said. "You can imagine the opposite if [Russians] conquer Ukraine or take some part of Kazakhstan, like they have in Ukraine. But a weakened Russia would allow [Central Asians to make their] own decisions without worrying what the Russians will say or how they will react."
Fukuyama also pointed to the importance of a liberal development of society in the region.
One of the things that's been quite striking in visiting this region is how little communication trade interchange there is among the countries in Central Asia.
"It is important to form a national identity that truly includes all those who live in Kazakhstan rather than allowing one group or another to dominate. During the [Soviet era] there was an attempt [coming from Moscow] to Russify everything, to make everyone speak Russian, to make Russian culture somewhat dominant. And that was wrong," he said. "People really need the freedom to live in their own cultural environment without being blocked by others."
Fukuyama is surprised by the strict measures that exist on Central Asia's borders and says a greater implementation of a free market and the opening of borders would lead to a surge in the region's economic development.
"One of the things that's been quite striking in visiting this region is how little communication trade interchange there is among the countries in Central Asia," he said. "[There could be much] bigger markets and much more prosperity if the countries in this region didn't impose border controls and didn't pursue more economically nationalist kinds of policies but rather were integrated into a larger single market. That's a project that the leaders in these countries could pursue at some point."
Independence Is Essential…
Fukuyama's doctrine of liberalism posits that in a truly open society people will be treated equally regardless of race, gender, or anything else. When asked about Kazakh President Qasym-Zhomart Toqaev, Fukuyama emphasized the importance of liberty for the individual.
Live Briefing: Russia's Invasion Of Ukraine
RFE/RL's Live Briefing gives you all of the latest developments on Russia's full-scale invasion, Kyiv's counteroffensive, Western military aid, global reaction, and the plight of civilians. For all of RFE/RL's coverage of the war in Ukraine, click here.
"I think [Kazakhstan has] a very centralized authoritarian regime. I think that the transition to Mr. Toqaev nonetheless opens up certain possibilities that probably didn't exist under the first president, just because [former Kazakh President Nursultan] Nazarbaev was there for so long and had centralized so much power…[but] even if you don't have full democracy, I think you can still have an authoritarian regime that permits a greater degree of individual freedom," Fukuyama said, citing China as an example.
"If you look at China, there's a big difference between China in 2010 and China in 2023 because individual Chinese in 2010 had much more freedom to travel, to speak, to think for themselves. Under [Chinese leader] Xi Jinping, those freedoms have been taken away. It's still an authoritarian regime as it was back then…but I think the degree of individual freedom has been gravely restricted. Those are the kinds of choices that exist in Kazakhstan, even if it continues to be a highly centralized regime."
…And Poor Education Leads To An Easy Dictatorship
Fukuyama said the possibilities for greater democracy in Central Asia are restricted due to its two big authoritarian neighbors, China and Russia, although he did offer hope in pointing to Mongolia.
"Mongolia is also caught between Russia and China and yet, ever since 1991, it's had democratic elections," he said. "It's permitted a great deal of freedom for its citizens. So, I don't think that geographical location necessarily dictates the internal form of government. [But] if the power of Russia and China were to weaken, it will permit more freedom of action for Central Asian countries."
Fukuyama also cited the poor level of education as amplifying dictatorship in the region, though he noted the critical role of the new generations of Kazakhstan in going abroad for their university education.
"If you have a population that is not very educated, it's easier to run a dictatorship," he said. "[But] if you have a country that's got a larger middle class where people travel abroad, they have different ideas, then you're going to have a greater demand for a more open society, and that's been happening in Kazakhstan. The number of students that have gone abroad to study outside of Central Asia is quite impressive, and they are in time going to make a difference. So that's a major social change in the last generation."
Written by Baktygul Chynybaeva based on an interview by Elnur Akimova of RFE/RL's Kazakh Service