USA News
A woman joked that she bought a work by a famous artist for only $4. It turned out to be true – WSVN 7News | Miami News, Weather, Sports | Fort Lauderdale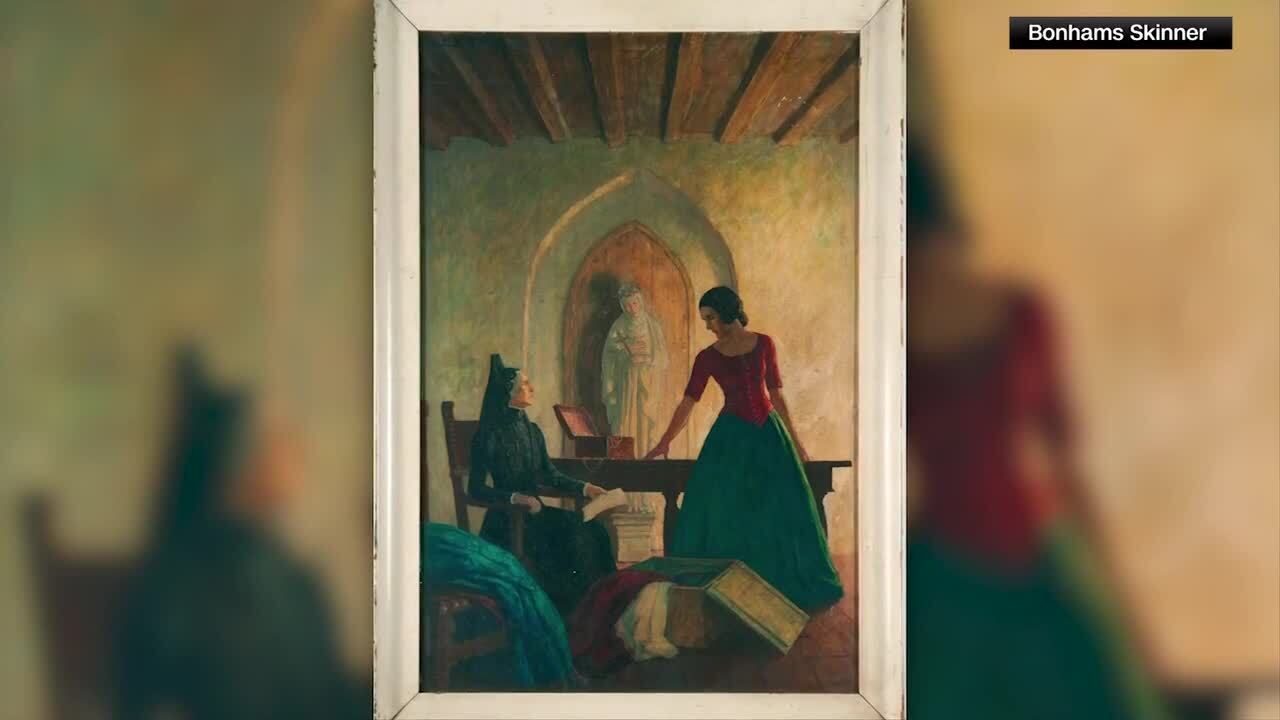 (CNN) — When an antiques enthusiast bought a painting that appeared to bear NC Wyeth's signature at a thrift store in 2017, she joked that the item she picked up for just $4 might actually be real work. from the prolific artist and patriarch of Maine's Wyeth family of painters. Her joke was no laughing matter, and the painting is now estimated to sell for as much as $250,000 at auction in September.
According to specialists from the Bonhams Skinner auction house, the seller unknowingly bought the work at a Savers thrift store in Manchester, New Hampshire, while looking for frames to reuse. According to the auction house, the Wyeth painting had been hidden against a wall along with mostly damaged posters and prints.
The woman took the piece home but was unable to find any information about the work with a quick internet search. After hanging her painting in her bedroom for several years, she finally put it away in a closet in her house.
A painting forgotten in a closet turned out to be a 16th century masterpiece and is worth millions of dollars
Auction house Bonhams Skinner expects the painting to fetch between $150,000 and $250,000 at auction in September. (Credit: Bonhams Skinner)
The woman rediscovered the painting last May while cleaning, and this time she posted pictures of the work on a Facebook page titled "Things Found in Walls," which is dedicated to "stories of things you've found in walls, dug up in your backyard or in that abandoned house across from your grandmother's," according to the group's description.
Comments on the post led her to contact Lauren Lewis, a former curator who has worked with paintings by three generations of the Wyeths: NC Wyeth, his son Andrew Wyeth and his grandson Jamie Wyeth. After seeing the piece in person, Lewis was "99% sure it was authentic," she told the Boston Globe.
"While it certainly had some minor scratches and could use some surface cleaning, it was in extraordinary condition considering none of us had any idea of ​​its journey over the past 80 years," Lewis told the Globe.
"It's very exciting": 400-year-old painting found in a warehouse could be worth millions
Wyeth used to produce covers for publishers of periodicals and novels. The painting to be put up for sale in September is one of four he completed for a 1939 edition of Helen Hunt Jackson's book "Ramona," originally published in 1884. In it, Wyeth painted the young main character in front of his elderly woman. foster mother, as a statue of a religious figure looms among the women.
Of this series of illustrations, only one more has been recovered, according to Bonhams Skinner. Auction house specialists believe Little, Brown and Company may have given the work to a publisher or to the author's estate.
The auction record for any member of the Wyeth family was set last year during the sale of the collection of Microsoft co-founder Paul Allen at Christie's New York, where Andrew Wyeth's 1980 painting "Day Dream" sold for more than $23.2 million, more than seven times the highest initial estimate of $3 million.
The-CNN-Wire™ & © 2023 Cable News Network, Inc., a Time Warner Company. All rights reserved.