UK News
Adrian Weckler: Parents play into big-tech companies' hands by letting kids access social media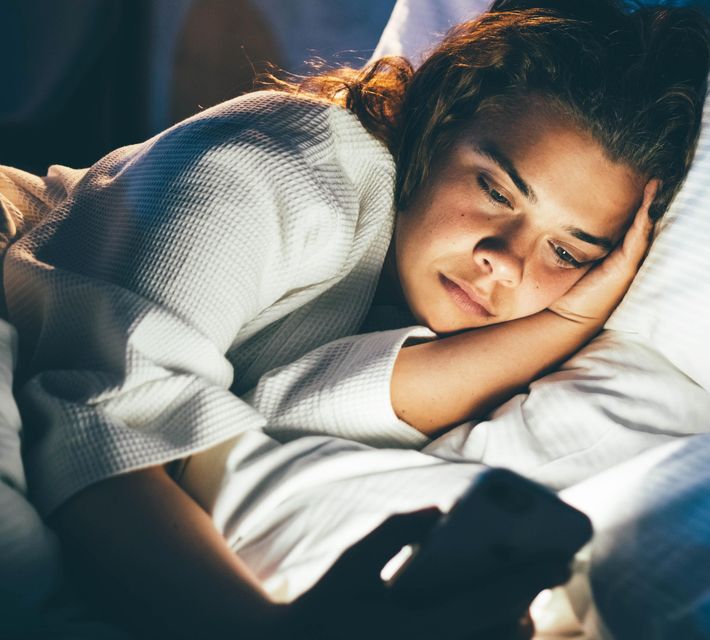 Survey indicates platforms such as Facebook and Instagram not solely at fault for child users
The biggest school survey of its kind in Ireland makes a mockery of social media platforms' so-called "rules" about stopping children from using their adult-oriented services to post messages, photos and videos of themselves.
According to CyberSafeKids' exhaustive, long-term study of 5,000 children, 20pc of girls aged eight to 12 use social media services such as TikTok and Snapchat, with many admitting to posting photos and videos of themselves.
The minimum age for use of any main social media service is 13. Big companies like TikTok and Meta say they are trying to keep kids off their platforms. There are glimpses of progress, as with the yearly reduction in nine-year-olds using TikTok.
But it's indisputable that, in Ireland at least, a significant chunk of their business comes from underage kids using their services.
What's starting to dawn on everyone, though, is that parents may also be in on it – enabling very young kids to 'connect' with primary school pals without worrying about negative consequences.
The figures are clear as 84pc of primary school kids aged eight to 12 have their own social media or messaging account. By the age of 12 in secondary school, this is 80pc on TikTok, 89pc for Snapchat and 88pc for WhatsApp. That's a lot of potential ad income from underage users.
Some 22pc of children aged eight to 12, the report finds, post videos of themselves on these social media platforms. (This rises to 40pc of kids aged between 12 and 16.)
Given that they're signing up with false ages, there's little reason to think that those videos aren't commercialised as adults, at the very least. At worst, they could open kids up to approaches from strangers.
"These findings make it clear that age-assurance measures on these platforms are inadequate. Determined children had little trouble bypassing them," the report concludes.
"Some platforms may provide a slightly altered experience for young teenagers, but we have no way of knowing if eight- to 12-year-olds will bypass these safeguards also, when giving a false date of birth at sign-up."
The report also highlights that, partly because they're so young, a large number of children aged eight to 12 don't mark their accounts as private. It is a potentially grave problem for pre-teen and early-teen girls.
Among the young teenagers surveyed, 50pc of girls post videos of themselves online, compared to just 18pc of boys, according to the report.
The social media platforms say they have advanced technology to detect such videos and that this can lead to an account being shut down.
But the CyberSafeKids figures suggest that it doesn't seem to be a particularly effective deterrent.
The fallout from being in this grown-up world too young can be scarring. More than a quarter of all the children surveyed – aged eight to 16 – said they had seen disturbing content, such as sexual or violent scenes that "bothered" them.
It's not as if mams and dads of children around the country don't know how these services work
But parents mostly aren't told about it. Two-thirds of 12- to 16-year-olds are keeping it to themselves, while almost half (46pc) of those aged eight to 12 don't tell either.
This leaves some of the fallout with teachers. The survey found that it's at school where an increasing amount of kids' online safety incidents are being dealt with. Of the teachers surveyed, nearly two-thirds said they have to handle some sort of online problems associated with the children, whether cyberbullying or otherwise.
It is probably little wonder that there's a growing clamour among primary schools – supported in principle, if not in deed, by Education Minister Norma Foley – to make primary schools smartphone-free zones.
But that will be an uphill battle. 98pc of all children aged 12 and older own a smartphone. The figures also show that 93pc of children below that age own a "smart device", such as a tablet. Even more revealing is that nearly half (47pc) of children aged eight to 12 actually own a smartphone.
It's fair to ask: is this all the fault of the tech platforms? With so many kids using social media platforms that they're technically not allowed to use, aren't their parents at least partially culpable?
It's not as if mams and dads of children around the country don't know how these services work. Parents of primary schoolchildren, many of whom are millennials, are typically glued to their Instagram, Facebook, WhatsApp and TikTok feeds. They're not bamboozled by the technology.
In fact, because an app like TikTok has a 12-plus rating in the app stores, they can block their kids from downloading and using it.
We say we're concerned about our kids online, but then hand them all of the tools to do it – even helping them to get around the age restrictions
But do they? If not, don't they bear some responsibility for facilitating their kids on social media networks? Handing them the phones? Setting them up on iPads? Nodding along as their kids tell them they're chatting to their friends on Snapchat or watching videos on TikTok?
This is not to let social media networks entirely off the hook. Even if companies like Meta, TikTok and Google do have programmes and systems in place to semi-enforce their 13-plus age rules, they're clearly profiting from such widespread evasion.
But it's also possible that we're all part of the same hypocrisy. We say we're concerned about our kids online, but then hand them all of the tools to do it – even helping them to get around the age restrictions.
In theory, it's easy to stop a child from using a social media network. In practice, it seems that we may not believe it's all that important.