UK News
Aston Villa v Everton: Premier League – live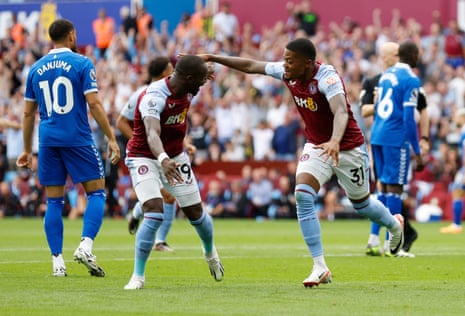 Key events
68 min Villa have switched to three at the back since Diego Carlos came on. And why not.
67 min A deft layoff from Watkins is collected by Coutinho, who shoots straight at Pickford from 22.47 yards.
66 min The 4.30pm game is West Ham v Chelsea. Daniel Harris has the team news for that one.
64 min: Triple substitution for Villa With the midweek Europa Conference League trip to Edinburgh in mind, Unai Emery brings on Youri Tielemans, Diego Carlos and Philippe Coutinho for Douglas Luiz, Leon Bailey (who seems okay) and Moussa Diaby.
62 min Bailey stays down after a strong but fair(ish) challenge from Tarkowski in the area. The fact Tarkowski got a touch on the ball should, in this context, preclude any VAR involvement.
61 min "McGinn is a seriously good player, Rob," writes Simon McMahon. "With all respect to Villa – they have been excellent for a while now – I feel he still goes slightly under the radar, and could easily play for a 'bigger' club. I know statistics don't tell the whole story, but he has 16 goals in 56 appearances for Scotland, a far better strike rate in international football than Beckham, Scholes, Gerrard, Giggs among others, and almost identical to Robson, Lampard and, indeed, Zidane."
I agree he's underrated. I think a lot of people still see him as a ballwinner, which is a load of nonsense.
60 min: Fine save by Martinez! Young's deep corner is met by the unmarked Maupay, who slams a volley from eight yards that is superbly saved to his right by Martinez.
59 min Danjuma gets round the back on the left but then overhits his cross. He has looked pretty sharp since coming on.
58 min Now look, it could be worse.
56 min: Watkins misses a great chance. This could get very ugly. Diaby, who has again been impressive, runs at a backpedalling defence and slides a lovely through ball into the path of Watkins. He screws a first-time shot back across the outrushing Pickford but gets a bit too much on it and it rolls wide of the far post.
56 min "After that goal," says Joe Pearson, "it appears today's impostor is Disaster. Sorry, Mary and Gary."
Don't forget Stephen Carr.
53 min Danjuma shoots well wide from the edge of the area. Some Everton fans are already leaving.
Digne took a quick throw-in on the left, hurling it into the Everton area. It bounced awkwardly in front of Keane, whose miserable attempted clearance – a kind of half-arsed karate kick – went straight to Bailey 12 yards out. He allowed the ball to run across his body and drove it through the legs of Pickford. The Everton defence was asleep.
GOAL! Aston Villa 3-0 Everton (Bailey 51)
Good lord, this is an awful goal to concede.
50 min Kamara's long-range shot hits Tarkowski and goes over the bar. Before Villa take the corner, Neal Maupay replaces the injured Alex Iwobi.
49 min Saying which, Iwobi is down and looks a bit disconsolate. I think he's pulled his left hamstring.
48 min Nothing ro report so far. Dobbin has started on the left wing for Everton, with Iwobi moving to the right.
46 min Peep peep! Everton begin the second half.
Half-time substitution for Everton The young forward Lewis Dobbin replaces Idrissa Gueye.
Half time: Aston Villa 2-0 Everton
An emphatic first-half performance from Aston Villa, who lead through a volley from John McGinn and a penalty from Douglas Luiz. They've been great; Everton – who lost poor Dominic Calvert-Lewin with a cheekbone injury – have not.
45+9 min And now Gueye is booked for a poor lunge at McGinn.
45+4 min Watkins rolls Keane, who pulls him back and is booked.
45+1 min: Good save from Martinez! Patterson screws an ingenious through pass to Danjuma, who hammers a low shot from a tight angle that hits Martinez and goes behind for a corner.
45 min Nine added minutes. Yep.
42 min It's easy to talk about Everton's shortcomings, but Villa have played some exhilarating stuff. Bailey, Diaby, Digne and McGinn have all looked so sharp.
41 min "I feel this is Everton's year," says Tony Hughes. "As a long time Villa fan, I know only too well that you can only circle the gaping maw of the Championship for so long before it pulls you in. You become one of those 'three teams worse than us' teams. It feels like it's inevitable for Everton."
I think they'll be okay if Dyche stays at the club. If Luton and Sheffield United go down – fairly or not, most people think they will – Everton only need to finish above one other team.
39 min Pau Torres misses a great chance, flicking a header across goal rather than towards it after another terrific cross from Digne. Watkins managed to reach the ball on the stretch at the far post but he couldn't divert it on target.
The flag went up after the event, though I'm not sure whether the offside was before or after Torres's header.
37 min: Everton substitution Calvert-Lewin's face has started to swell after that collision with Martinez, so he has been replaced by Arnaut Danjuma. It doesn't count as a concussion substitute. But it does look like he has done serious damage to his cheekbone. The poor guy cannot catch a break.
35 min This would be Villa's eighth consecutive league win at VIlla Park.
34 min: Diaby hits the post! Villa are playing some blistering stuff. McGinn swaggers away from Gueye on the left and releases the overlapping Digne. He arcs a beautiful first-time cross towards Diaby, who smashes an acrobatic volley that is pushed onto the inside of the post by the diving Pickford. That's a very good save, and it would have been an even better goal.