World News
Bank of England's 'regrettable' mistakes fuelled inflation, its former top economist says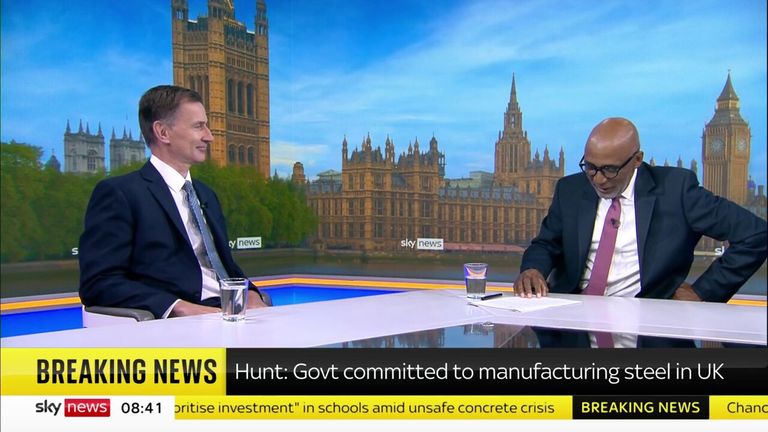 The Bank of England "regrettably" made mistakes that have fuelled inflation in the UK, its former chief economist has told Sky News.
Andy Haldane said the Bank had printed money through its programme of quantitative easing "longer than it needed to" as it tried to help the economy recover from COVID – and also suggested it had acted too slowly to increase interest rates.
While inflation has been coming down from its peak of 11.1% last October, the rate of price rises – which was 6.8% in the year to July – remains high and continues to put a major strain on many households amid the cost of living crisis.
Hunt: You can't end 'misery' until you get inflation down

Mr Haldane, who stepped down from the Bank in September 2021, also said it was "an evens bet" whether the UK would fall into a recession.
He further criticised what he described as a lack of investment in infrastructure such as hospitals and schools – as highlighted by the classroom concrete crisis this week.
Mr Haldane, who now heads the Royal Society of Arts, made the comments during an interview for Politics Hub with Sophy Ridge, which will be broadcast on Sky News on Tuesday.
When asked about inflation, Mr Haldane said: "It [the Bank of England] kept on printing money for a bit longer than it needed to.
"I think with the benefit of hindsight … we probably did a little bit too much for a little too long. I make no apologies about the greater sway of that easing – that was needed, I think, at the time of COVID to protect jobs and to protect households and to protect businesses.
"But did we persist with that a little longer than we needed to? And did they step on the brakes a little too late – and therefore a little harder now than they needed to? I think that is probably where we find ourselves, regrettably."
Read more business news:
Fears for future of 'super soggy' Superdry as shares slump
Why are fuel prices on the rise and will they come down?
Tesco staff offered body cameras following rise in assaults
Inflation: 'We're getting poorer'

It comes following criticism of the Bank over its strategy to bring inflation down to its target of 2%.
Its Monetary Policy Committee hiked interest rates for the 14th time in a row last month to 5.25%. But some commentators have warned the UK could tip into a recession if rates remain high.
Mr Haldane described the economy as "pancake-like" and "flatlining for 18 months", even with the recent upward revisions to the UK's growth figures.
He added: "The story of the last 18 months remains intact. That is to say, we have been stuck. Growth is absent. That means it would take only the tiniest of tilt for us to enter recessionary territory."
When asked if recession was still a danger, Mr Haldane replied: "It's definitely still a danger. I would hope not a sharp recession. But could that rise in the cost of borrowing take the legs from beneath an embryonic recovery? I think it could and that is definitely a risk.
"I'd say it's an evens bet as things stand."
On the wider economy, he said there had been "underinvesting in the assets of UK plc" and claimed the concrete crisis in schools had been "foreseeable".
He added: "We fare poorly when it comes to the amount we save as a country, save as a nation and the amount we invest as a nation. And that's the main reason why we're seeing these problems, these fragilities in our infrastructure show up – whether it's crumbling schools or congested motorways and railways."
Education sec watches clip of herself swearing

The Bank of England has defended its strategy to try and bring down inflation, while chancellor Jeremy Hunt has said he is confident it will be halved by the end of the year.
Mr Haldane's successor as chief economist, Huw Pill, said last week the Bank was determined to "see the job through" – but also admitted he was wary about the risk of "unnecessary damage" being inflicted on employment and growth if interest rates increased too much.
The full interview with Mr Haldane will be broadcast on Politics Hub with Sophy Ridge at 7pm on Tuesday 5 September on Sky News.