UK News
This Is What's Actually Going On At Burning Man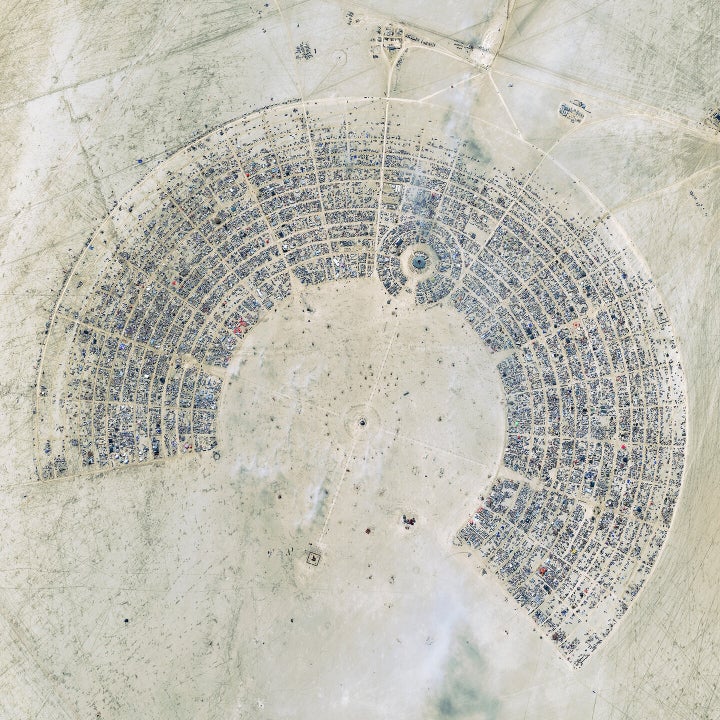 If you've been anywhere near social media in the past couple of days, you've probably seen Burning Man 2023 trending for all the wrong reasons.
The annual gathering (which looks a lot like a regular festival, despite organisers insisting this isn't the case) is currently taking place in the Nevada desert.
Unfortunately, the weather has caused havoc for attendees this year, with torrential rains leaving thousands of people stranded in a situation that feels a little like Fyre Festival 2.0.
And with X, formerly known as Twitter, no longer offering proper verification for reliable sources, it's been difficult to tell what's true and what isn't, which has somehow led to false rumours of an ebola outbreak at Burning Man becoming rife.
From how the event works to what's really happening at this year's Burning Man, here's everything you need to know…
First of all, what actually is Burning Man?
Let's start with the very basics – Burning Man is held at "Black Rock City", which is essentially a fully-functioning city (complete with medical centres, art installations and even an airport) that pops up and plays host to more than 70,000 people for around nine days a year, in a desert in Nevada.
The gathering takes its name from the burning of a giant wooden effigy called "The Man" at the end of the event.
Its focus is on community and self-sustainability, with "Burners" bringing everything they need with them, trading goods instead of using money and sticking to a "leave no trace" policy, meaning when the event ends, absolutely everything on site should be removed.
While organisers focus on the social values at the event's core, it has become known as a party destination.
Though it's not technically defined as a festival, some of Burning Man does have a similar vibe, with DJs (such as Carl Cox and Diplo – more on him later) delivering multiple sets over the course of the week.
Its campsites also somewhat resemble those at the likes of Glastonbury, with people sleeping in everything from tents to RVs in themed areas.
There are also sectors known to play music late at night, while families with young children are guided to quieter areas.
Where did things start going wrong this weekend?
The situation started to sour on Saturday night US time, when it became apparent that heavy rains and floods were going to batter the usually sandy desert "playa" where Black Rock City is built.
"No driving is permitted except emergency vehicles. If you are in BRC, conserve food, water, and fuel, and shelter in a warm, safe space."
A lengthier message on Burning Man's website detailed special measures that had been implemented, such as extra mobile phone towers and buses for people trying to leave by walking through the desert.
Organisers also reminded everyone: "Burning Man is a community of people who are prepared to support one another.
"We have come here knowing this is a place where we bring everything we need to survive. It is because of this that we are all well-prepared for a weather event like this.
"We have confidence in Communal Effort and Civic Responsibility and this is a good moment to drop in with those principles in mind."
And while attempting to walk out of a festival miles into the Nevada desert might seem like a horrendous idea, two people who managed it were Diplo and Chris Rock.
The music producer posted a video of himself and the comedian in someone's pick-up truck on Instagram.
He wrote in the caption: "I legit walked the side of the road for hours with my thumb out cuz i have a show in DC tonight and didn't want to let y'all down.
"Also shoutout to this guy for making the smart purchase of a truck not knowing it was for this exact moment."
What happened on Sunday?
Let's just say Diplo's decision to make a break for it on Saturday is looking better as time goes on.
As of Sunday morning, it was too muddy for any of the roads to re-open, leaving tens of thousands of people stranded, with supplies starting to run low.
No roads also meant services such as sanitation for the portaloos couldn't get in, with "Burners" on social media reporting a lack of toilets.
"Some vehicles with 4WD and all-terrain tires are able to navigate the mud and are successfully leaving," an update at 9am read.
"But we are seeing most other types of vehicles that try to depart getting stuck in the wet mud which hampers everyone's Exodus. Please do NOT drive at this time."
By Sunday evening, Burning Man's organisers said things were looking up and that roads are expected (but not guaranteed) to reopen at 9am local time on Monday.
Tragically, it was also confirmed on Sunday that one person has died at the event. The death is being investigated, the local sheriff's office told the BBC, and the person's family has been notified.
What's the deal with the ebola rumour?
In short, it's not true. Because X has changed its policy for verified accounts, which previously made it easier for users to work out which news accounts were trustworthy, it's become even more difficult to decipher the truth on the site when it comes to fast-moving news stories.
Doctored headlines and text message "screenshots" suggested that ebola had been found at Burning Man. A Forbes article debunking the rumour was also edited on Photoshop and spread on social media, fuelling the false story further.
As X's new disclaimer states, there is no ebola at Burning Man, and the memes suggesting otherwise are a hoax.
And the plane at LAX?
Another rumour suggested that an evacuation at Los Angeles' international airport took place, thanks to the arrival of a contaminated private jet from Burning Man.
This has also been debunked, with CBS reporting that the airport buildings in question were actually evacuated after a suspicious package was found in the Tom Bradley terminal.
What happens next?
The situation is so serious that US president Joe Biden has been briefed:
Attendees will find out if they can leave the site on Monday morning US time (which is some point in the afternoon here in the UK).
If they do choose to stick around a little longer, the "burning" which was due to take place on Sunday will now happen on Monday night.