World News
Burning Man: Thousands of partygoers allowed to leave festival after flooding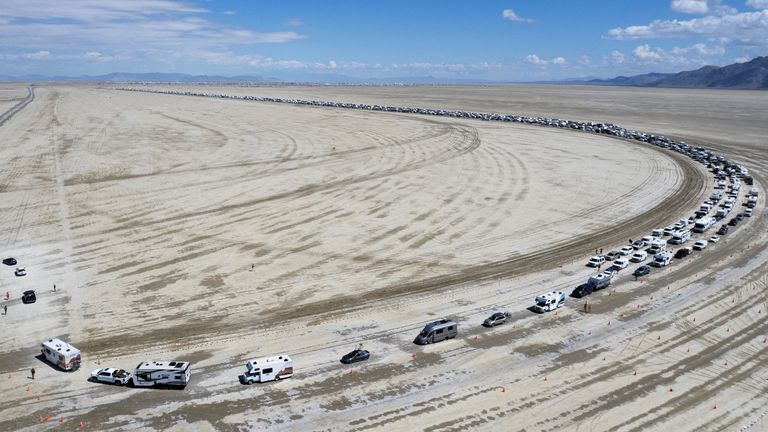 Tens of thousands of partygoers stranded for days at the Burning Man festival in Nevada because of flooding have started to leave the camp.
Attendees at the festival were told to conserve food and water and find shelter after around 1.5 inches of rain fell on Friday in the north Nevada desert, causing flooding and foot-deep mud.
Police also said the death of a man in his 40s at the festival was not weather-related but provided no further details.
The sheriff of nearby Pershing County said he was investigating but has not identified the man or a cause of death.
Organisers had started to let traffic flow out of the makeshift city on Monday afternoon, with delays of around five hours to leave the site. The festival had been closed to vehicles.
"It really looked apocalyptic," said festival volunteer Evi Airy about the exodus of people.
"When you see the people walking barefoot in such a cold with the children. Some people have a small child here like three years old, four years old. I don't know how they survived."
Attendees were also asked not to walk out of the Black Rock Desert – about 110 miles (177km) north of Reno – as others had done throughout the weekend, including celebrity DJ Diplo and comedian Chris Rock.
Diplo, whose real name is Thomas Wesley Pentz, posted a video to Instagram on Saturday evening showing him and Rock travelling in the back of a fan's truck.
He said they had walked six miles through the mud before finding a lift.
Chris Rock and Diplo escape Burning Man

"I legit walked the side of the road for hours with my thumb out," Diplo wrote.
President Joe Biden told reporters in Delaware on Sunday that he was aware of the situation at Burning Man, including the death, and the White House was in touch with local authorities.
Read more:
Rumours of Ebola outbreak at Burning Man Festival – here's why they're false
Abandoned tents and rubbish left in several fields after event
Thousands gather for annual food fight festival La Tomatina
The annual gathering, which launched on a San Francisco beach in 1986, attracts nearly 80,000 artists, musicians and activists for a mix of wilderness camping and avant-garde performances.
Some of the 64,000 people who remained on site have chosen to stay an extra night and watch the festival's giant namesake effigy go up in flames on Monday, one day late.