World News
Cartels exploit banana trade to smuggle cocaine from Latin America: report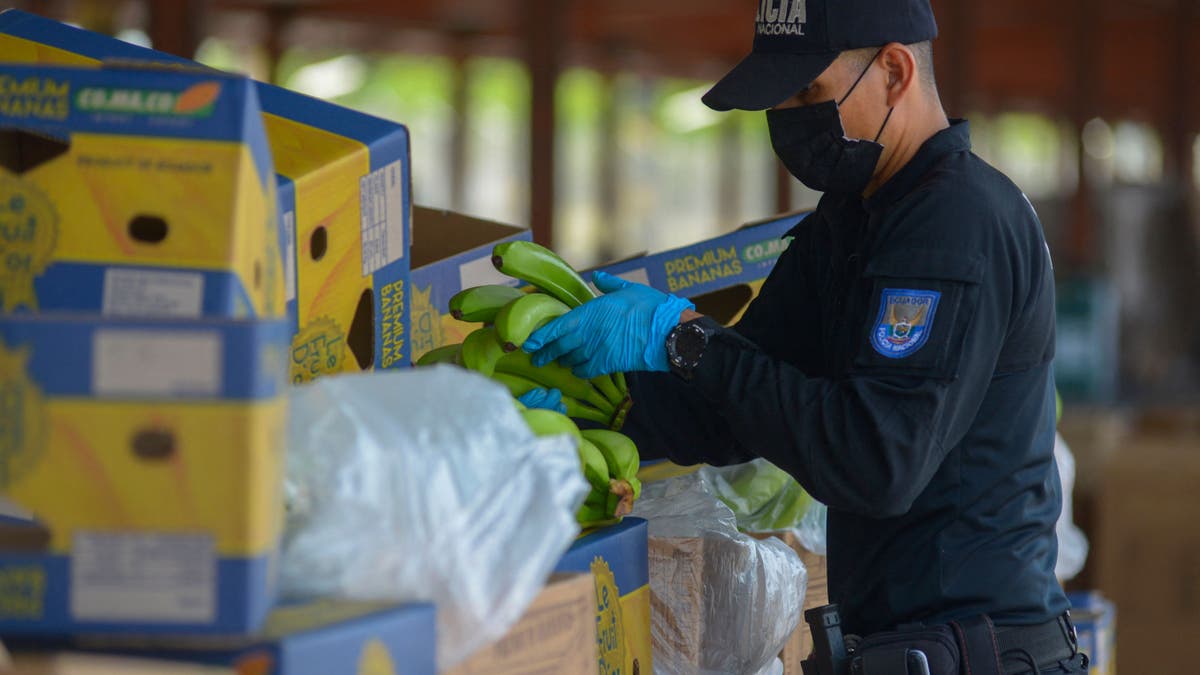 Drug cartels have pinpointed Ecuador's banana trade as the ideal distribution method for cocaine, even as authorities across Europe catch the shipments – each one worth millions. 
"It is because of bananas that there are so many ports," Jose Hidalgo, executive director of the Association of Banana Exporters of Ecuador, told The Associated Press. "It opens routes to other export products."
Police in Belgium, Spain, the Czech Republic and other countries have seized tons of bananas originating from Ecuador, with millions of dollars-worth of cocaine. Spain recorded its largest-ever cocaine haul with 9.5 tons of the drug worth around $239 million, along with luxury watches and 1.5 million Euros in cash, Euronews reported last week. 
Italian police, with the help of drug-sniffing dogs, in May found 3 tons of cocaine in banana shipments from Ecuador that would fetch $900 million if it had reached its final destination of Armenia. Police checked the shipment due to a background check finding the merchants did not usually traffic fruit. 
ARIZONA MAN ARRESTED AFTER TODDLER DIES WITH NARCOTIC FOUND IN HIS SYSTEM: POLICE
Employees at a Czech supermarket in June 2022 found 840 kilograms (roughly 1850 pounds) of cocaine worth around $85.5 million inside a banana shipment, which authorities believe were mistakenly sent to the locations, the Guardian reported. 
Belgian police earlier this year seized 8.8 tons of cocaine worth around $330 million, with Alexis Gosdeel, the director of the European Monitoring Centre for Drugs and Drug Addiction, warning that the "growing flow of cocaine now threatens the entire European Union," the BBC reported. 
Ecuador has found itself at the forefront of the cocaine trade as cartels and gangs from as far away as the Balkans have seized on an inexperienced police force and lax international trade rules to turn the country into the main outlet for the drug.
MS-13 AND MEXICAN MAFIA LEADER SENTENCED TO 17 YEARS FOR MASSIVE TRAFFICKING OF METH, COCAINE ACROSS BORDER
Neighboring Colombia and Peru account for the largest production of cocaine globally, but after the Revolutionary Armed Force of Colombia signed a peace accord and stepped down its activities – for which it had used cocaine to obtain funding – other players including Mexican drug cartels moved in. 
The stronger, more experienced cartels empowered local Ecuadorian gangs with weapons and alliances to help them gain a foothold in a country with lax border security, major port access and strong shipping infrastructure. 
Police data also shows that of last year's total, a record 47.5 metric tons of cocaine were found in shipments of bananas, even though the fruit's exports dropped 6.4% compared to 2021. No more than 30% of containers is currently inspected at Ecuadorian ports, a process done manually or with drug-sniffing dogs. 
OREGONIANS SUPPORT ENDING DRUG DECRIMINALIZATION AMID RISING OVERDOSES, 'RADICALIZED SOCIAL JUSTICE MOVEMENT'
Ecuadorian President Guillermo Lasso's government says it wants to use scanners on entire containers. Twelve of those machines were supposed to be operating already, but Ecuador's National Police Gen. Pablo Ramírez said that has not happened yet.
Hidalgo said that exporters spend around $100 million annually on security measures, including surveillance cameras at plantations, GPS monitoring of trucks and identification of land routes that require police patrols to keep gangs away. 
CLICK HERE TO GET THE FOX NEWS APP
This week, agriculture and customs officials purged a government-run banana export database of profiles deemed fake or incomplete and revoked permits for plantations covering around 40,000 acres that they deemed non-existent. 
The Associated Press and Reuters contributed to this report.