USA News
Trump rages at 14th Amendment "trick" that critics insist disqualifies him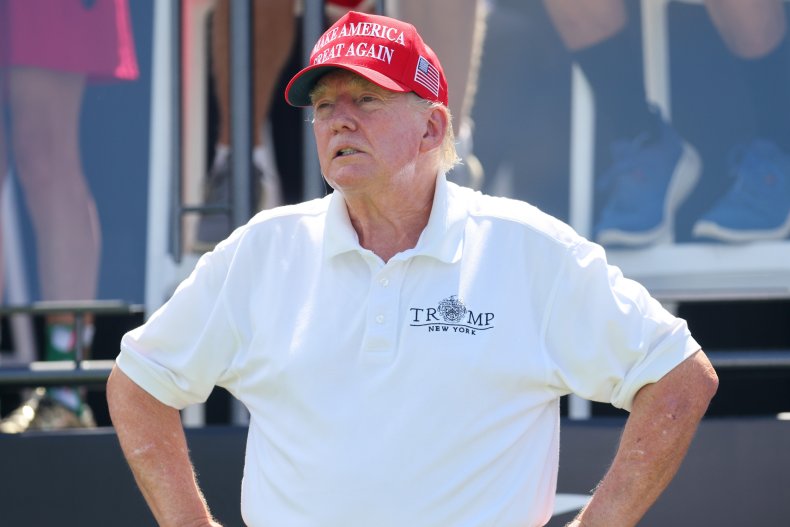 Former President Donald Trump is raging against a "trick" that some have argued disqualifies him from regaining the presidency.
Critics of the former president, including some legal experts, have championed a legal theory that says the 14th Amendment of the United States Constitution bans Trump from ever holding public office again due to a prohibition on officials who "engaged in insurrection or rebellion" or gave "aid or comfort" to enemies.
Trump, the leading Republican candidate in the 2024 presidential election, has pleaded not guilty to 91 felony charges across four criminal indictments this year. While insurrection is not one of the charges, some have argued that Trump's role in the January 6, 2021, attack on the U.S. Capitol makes him ineligible regardless.
The ex-president denounced the theory in a Truth Social post on Monday, saying that it is an attempt by "Radical Left Communists" to steal the next election.
"Almost all legal scholars have voiced opinions that the 14th Amendment has no legal basis or standing relative to the upcoming 2024 Presidential Election," Trump wrote. "It is just another 'trick' being used by the Radical Left Communists, Marxists, and Fascists, to again steal an Election that their candidate, the WORST, MOST INCOMPETENT, & MOST CORRUPT President in U.S. history, is incapable of winning in a Free and Fair Election."
While some legal scholars have dismissed the idea that Trump's candidacy is prohibited by the 14 Amendment, others disagree. Laurence Tribe, professor emeritus of constitutional law at Harvard University, penned an opinion article in The Atlantic last month arguing in favor of the theory alongside Michael Luttig, a former federal judge appointed by George H.W. Bush.
The theory was also endorsed by University of Chicago Law School Professor William Baude and University of St. Thomas Law School Professor Michael Stokes Paulsen—both members of the conservative Federalist Society—in a paper published in the journal University of Pennsylvania Law Review last month.
Newsweek reached out to Trump's office via email for comment.
In the Monday episode of his Justice Matters podcast, former federal prosecutor Glenn Kirschner insisted that Trump was "already disqualified" because the prohibition in the 14 Amendment is "automatic."
Kirschner argued that officials like Democratic Michigan Secretary of State Jocelyn Benson should use the theory to remove Trump's name from the ballot, predicting that any legal challenge to the move would eventually fail at the Supreme Court.
"In the states where they refuse to put Donald Trump on the ballot because he engaged in an insurrection, a suit will be brought, undoubtedly," said Kirschner.
"Once it bubbles all the way up to the Supreme Court," he added. "They will support the conclusion and the interpretation of the Constitution that says Donald Trump is disqualified from holding federal office again."
In a statement to Newsweek, Trump spokesperson Steven Cheung previously described Kirschner as "a notorious trafficker of wild conspiracy theories and dubious legal analysis" who "has been shunned by the legal community at large."