UK News
East Palestine residents grill Biden for not yet visiting site of major train derailment: 'We're not OK'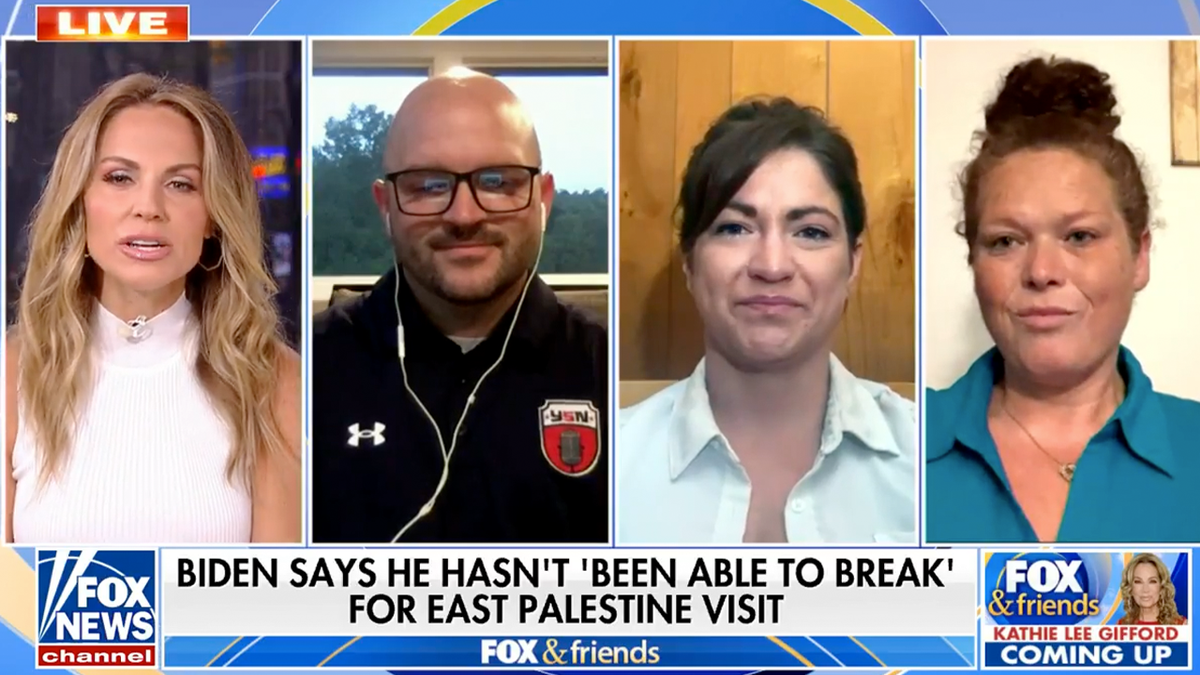 Several East Palestine residents spoke out against the recent answer President Biden gave for having not yet visited the site of a massive train derailment that occurred in East Palestine, Ohio, in February. 
Local residents Courtney Miller, DJ Yokley and Jami Wallace spoke with "FOX & Friends" guest host Dr. Nicole Saphier about the struggles they've endured since the disaster that spewed toxic chemicals and caused health and environmental concerns.
They also grilled Biden for claiming he had to put off visiting the area due to his busy schedule. 
HOUSE REPUBLICAN LEADERS WANT TO LAUNCH BIDEN IMPEACHMENT INQUIRY NEXT MONTH, SOURCES SAY
While in Florida on Saturday surveying the damage from Hurricane Idalia, Biden told the press: "I haven't had the occasion to go to East Palestine. There's a lot going on here, and I just haven't been able to break."
"I was thinking whether I'd go to East Palestine this week, but I then was reminded I've got to go literally around the world. I'm going from Washington to India to Vietnam," he added. "And so it's going to be awhile, but we're making sure that East Palestine has what they need materially in order to deal with their problems."
Poking holes in Biden's excuse, Saphier told her guests that Biden has spent much of his presidency on vacation.
"I still have yet to take my kids into East Palestine — I'm still fearful of what it's going to cause," Miller told Saphier about her situation. 
She added that most of the people she knows in the area have "ended up sick," and mentioned she's been staying in a motel near the town since the derailment.
"I just still don't feel comfortable," she continued. "And I don't want to take my kids into something that obviously Biden doesn't even want to show up [at]."
CCP-BACKED TECH COMPANIES ARE POISED TO CASH IN ON BIDEN'S CLIMATE BILL, NATIONAL SECURITY EXPERTS WARN
Saphier asked Yokley to weigh in on Biden's vacation time.
"I guess it's tough, right? To be on vacation all that time and be that busy," he said. "I don't think any American actively wants to root against the president. I think that's like rooting against your favorite football team because you don't like the quarterback… "
"This guy has actively not shown any compassion or moral value to anything. Emotionally, physically, he hasn't shown up, and there's been no help for us economically or with our residents." 
He continued: "It's really frustrating to see him go and say he's too busy for people that literally put him in the office."
Wallace, president for the Unity Council for the East Palestine Train Derailment, told Saphier she just wants "to see federal support come into East Palestine." 
"Everyone is focused on the economic recovery, the businesses, putting in a new park, but nobody is focused on the residents," she said. "We are here. We are still sick. We do have unmet needs."
Wallace added that she doesn't care if Biden decides to visit because he has already "insulted" the community. 
"This is about human lives. At this point, I don't even care if Biden comes. He's already insulted us. If he comes now, it will only be because he feels forced to come, which is not going to be genuine," she said. "Just get us federal support. Get us help. We're not OK." 
CLICK HERE TO GET THE FOX NEWS APP
For more Culture, Media, Education, Opinion, and channel coverage, visit foxnews.com/media.