UK News
RAAC school head frustrated over lost bid for cash – BBC News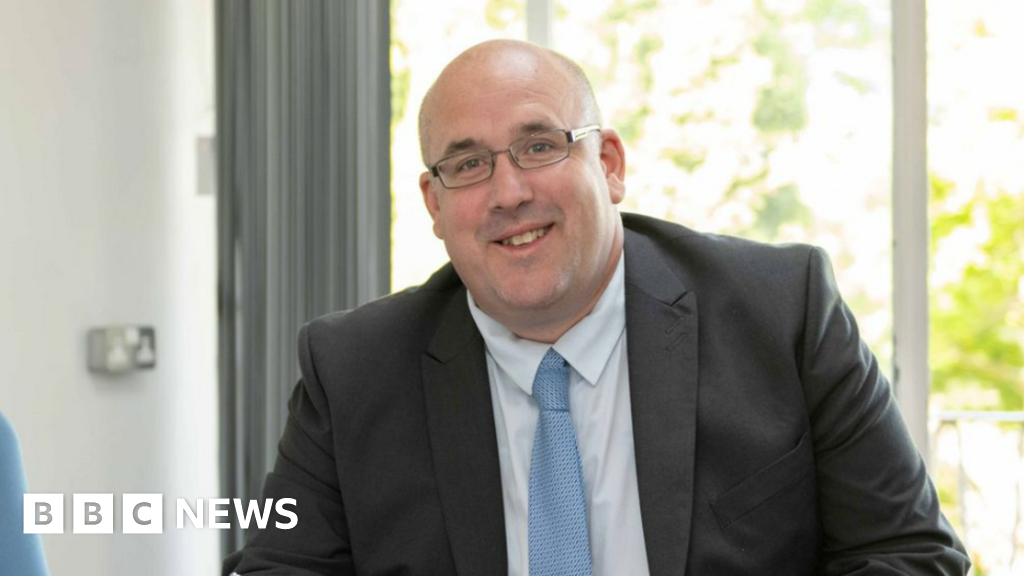 A head teacher who has had to delay the start of term because one of his school buildings contains dangerous concrete was denied funding to rebuild it.
"Other schools had a higher need", the Department for Education (DfE) told Myton School, in Warwick, last year, when its application was rejected.
It is now one of dozens unable to open as normal because of reinforced autoclaved aerated concrete (RAAC), which is prone to collapse.
The DfE has been contacted for comment.
'In disrepair'
Myton, which has about 1,800 pupils, now receives about £35,000 a year in capital funding to spend on building maintenance – less than a quarter of the funding received in 2010, head teacher Andy Perry says.
Its two main buildings, built in the 1950s or 1960s, are "old and in disrepair", so he applied for extra cash from the government's School Rebuilding Programme.
But a letter from the Department for Education, seen by BBC News, rejected the application because other schools were in worse condition.
Since then, a structural engineer has confirmed RAAC panelling in the first floor of the lower-school building, which has maths, languages, art and drama classrooms, a medical room and the canteen.
Outlining figures on Monday, the education secretary said around 50 schools have already undergone mitigation work – and at least another 104 schools are confirmed to contain the material.
Around 10% of the 15,000 schools built during the period RAAC concrete was used have not yet responded to a government survey on the material, she added.
Mr Sunak said the government expected 95% of the 22,000 schools in England would not be impacted by the issues.
Mr Perry told BBC News he and his staff felt "a lot of frustration" having to delay the start of term by three days.
"I don't know how they make these decisions – but the fact I've got to close down or at least partially close down a block in a building that we bid to rebuild… it doesn't feel like the parts of the DfE are particularly joined up here," he said.
The DfE's advice about what to do next was unclear, Mr Perry said. And he does not know whether the whole of the affected building will need to close or just the first floor.
But at the time of writing, Mr Perry was "still waiting" for a call from the DfE, despite being told he would be contacted on Monday.
"Honest to God, I thought we'd get a call or contact from the DfE over the weekend," he said.
The arrangements Mr Perry is considering to allow him to open the school include online learning and asking administration staff elsewhere on the school site to work from home, so their offices can be used as temporary teaching spaces.
A more permanent – but still short-term – solution is to buy temporary classroom blocks.
Mr Perry said he had received quotes from some companies, telling him these could take 12-16 weeks to arrive.
But he hopes the DfE might have arrangements in place to accelerate the process.
'Crisis management'
"We've got upset and anxious parents," Mr Perry said.
"It feels like the last few years have been a lot of crisis management.
"This was the year that all the past, all the Covid stuff, was going to be left behind. We [have] new improvement plans, new organisation around some of our welfare and behaviour.
"It was a real, brilliant new start. So the frustration is you get that one moment at the beginning of the year to set the tone.
"That's what we've lost."
It followed comments from a former top civil servant in the DfE, who accused Mr Sunak of ignoring recommendations when he was chancellor that up to 400 schools needed rebuilding annually.
Jonathan Slater – who was permanent secretary at the department between May 2016 and August 2020 – said investigations had led civil servants to recommend between 300 to 400 schools needed repairs each year and the department then requested Treasury funding to cover 200 a year.
"I thought we'd get it but the actual decision made in 2021 was to halve down from 100 a year to 50 year," he told BBC Radio 4's Today programme.
However, in response Mr Sunak said it was "completely and utterly wrong" to blame him and he had announced a programme to rebuild 500 schools over 10 years in his first spending review in 2020, equating to 50 schools a year.
"If you look at what we have been doing over the previous decade, that's completely in line with what we have always done," he said.
After finishing an interview with ITV – but while Gillian Keegan was still on camera – she criticised other people for having done nothing.
She later said her remarks were "off the cuff" and she apologised for her "choice language".
The education secretary then defended holidaying in the run-up to the schools concrete crisis unfolding, from 25 to 31 August.
She told Sky's Politics Hub: "When I went on holiday, to be honest, for the whole of the summer obviously I had to sort out industrial action, then I had to do the A-levels, then I had to do the GCSEs.
"But what I arranged was to go on holiday on that day for my dad's birthday – it was a family occasion and we went."
In Scotland, 35 council-run schools have been found to contain RAAC, but they are remaining open, with First Minister Humza Yousaf saying there were no immediate safety concerns.