UK News
England v New Zealand: fourth men's T20 cricket international – live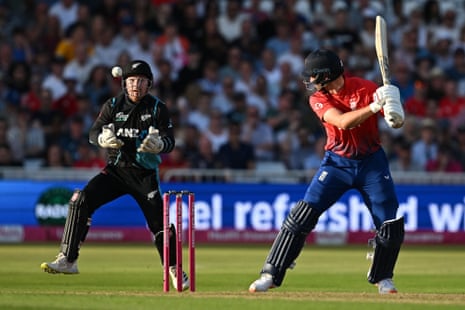 Key events
10th over: England 92-1 (Bairstow 66, Malan 4) On comes NZ's third spinner, Rachin Ravindra. Bairstow says "good evening" with another swing for six. At the halfway mark, England are still on top, but their run rate has slipped from a princely 10 to a paltry 9.
"Self-absorption," says Mark Hooper, "or trying not to get out? Funny old game." Point taken, but trying not to get out hasn't been England's one-day policy since 2015, and now it's not wanted in Tests either.
9th over: England 84-1 (Bairstow 58, Malan 4) Sodhi continues and there's another single to Malan, who, to be fair, has an excellent record in both white-ball formats – he just takes a while to get going, which must be maddening for the blasters waiting in the dug-out. Bairstow shows him the way with a flat-bat four past extra-cover.
8th over: England 76-1 (Bairstow 53, Malan 2) Santner returns to make it spin from both ends. He finds some turn but it's down the leg side, so that's five wides. Malan picks up another single to go to two off four balls, one of his racier starts.
We have an email! From an old friend. "Regarding the 'stodgy starts of Dawid Malan," says Brian Withington, "what is really disappointing is the self-absorption that sees him consume a succession of early dots without the slightest interest in rotating the strike. Will be interesting to see if it's any different tonight."
7th over: England 67-1 (Bairstow 50, Malan 1) So the end of the Powerplay does the trick as Sodhi goes 1-1-dot-wicket. And now he has Dawid Malan to bowl at, which should mean more thrift … but Malan manages a single off his first ball. Bairstow gets one too to go to a sparkling fifty off only 26 balls, with four fours and four sixes. He's been so fluent that he may be under the impression it's a Test match.
WICKET! Jacks c Seifert b Sodhi 16 (England 65-1)
The breakthrough! Ish Sodhi starts strongly with his leg-breaks and Jacks gets a big nick on a cut. Seifert spills it, but upwards, and he grabs it at the second attempt.
6th over: England 63-0 (Bairstow 48, Jacks 15) Jacks, facing Henry, decides it's time for his first big yahoo and is lucky to get away with it as a top edge lands safely between deep third and sweeper. A more classical shot bring Jacks four off his pads. All the boundaries so far – four sixes and six fours – have come on the leg side. The Powerplay ends with England on top and the run rate in double figures already (10.5 an over).
5th over: England 56-0 (Bairstow 47, Jacks 9) Another over, another bowling change. Santner gives way to Southee, bringing himself back to stem the flow. It doesn't quite go to plan: Bairstow belts the first ball back past the bowler for six. He's got four of them already! Jacks, forced to play fifth fiddle, manages to glance for two, helped by a misfield, and that's England's fifty up from only 27 balls. Bairstow, also glancing, throws in a four for a change.
4th over: England 42-0 (Bairstow 36, Jacks 6) Another bowling change as Henry gives way to Kyle Jamieson. No change of batting as Bairstow flicks him for six too. A swing and a hit. Jamieson responds with a lifter that Bairstow can only waft at. But he has a retort too, a bottom-handed bunt through mid-on for four. And a pull for six! Hint of a tope edge, but he got just enough of it. Barstow rounds off a triumphant over with a cute dab for a single. He's already going at two runs a ball. Giving him the gloves seems to have worked a treat.
3rd over: England 25-0 (Bairstow 19, Jacks 6) Southee gives himself his marching orders and turns to spin, fearlessly. Mitchell Santner deceives Bairstow immediately, luring him into a top-edged sweep, but getting no reward for it as the ball pops over short fine leg and runs away for four. Will Jacks, after enduring a couple of dots, heads in the same direction, more deliberately, getting right across to off to ramp-paddle for four more.
2nd over: England 16-0 (Bairstow 14, Jacks 2) At the other end it's Matt Henry, bearing extra pace. That's fine by Jonny B, who clips him for four over midwicket, then for six over square leg, with two measured strokes. We may be seeing a few sixes tonight.
1st over: England 4-0 (Bairstow 3, Jacks 1) Southee pitches it up, looking for some swing, not finding much, and both openers get bat on ball without disturbing the Toblerone. Trent Bridge is a high-scoring ground, so England will need to start a lot better than they did at Edgbaston.
The players are out there in the mellow sunshine, and Tim Southee has thrown the new white ball to himself.
NZ team: Conway replaced by Ravindra
Devon Conway, who has had a nightmare, has been left out, so Tim Seifert steps up to open. His eye will be in after keeping wicket. NZ too add a spinner, Rachin Ravindra, who slots into the middle order and gives Tim Southee a second slow left-armer to go with the formidable Mitch Santner.
1 Allen, 2 Seifert (wkt), 3 Mitchell, 4 Phillips, 5 Chapman, 6 Ravindra, 7 Santner, 8 Jamieson, 9 Sodhi, 10 Southee (capt), 11 Henry.
England XI: Rehan Ahmed comes in
Buttler's place goes not to a battery s you might expect, but to the precocious leg-spinner Rehan Ahmed (though he can bat). England have eight bowlers, five of them spinners – not just Adil Rashid and Moeen, but Liam Livingstone, Will Jacks and Rehan too. It's a team that needs to avoid another top-order collapse.
1 Bairstow (wkt), 2 Jacks, 3 Malan, 4 Brook, 5 Livingstone, 6 Moeen (capt), 7 S Curran, 8 Rehan, 9 Carse, 10 Rashid, 11 L Wood.
Toss: England bat first, no Buttler
England's captain wins the toss and opts to bat … and it's not Jos Buttler. Moeen Ali takes over, as he did for the whole series in Pakistan last autumn. The word is that Buttler is resting himself. Bold move!
Evening everyone and welcome to the final act of this mini-series. As in the 2023 Ashes, it's not a full-throttle decider, because only one team can win the trophy – England, for a change. But New Zealand have the chance to emerge with a 2-2 draw, and, as they began with two heavy defeats, that would be quite a feather in the Black Caps. After their thumping win on Sunday, the momentum is with them.
Other options are available. When these two teams meet, you can never rule out a tie, and the series does owe us a cliffhanger. The one result that can surely be ruled out is no result, as the British summer, which went missing at the end of June, has suddenly reappeared.
As ever, there are plenty of micro-dramas unfolding. Can Harry Brook force his way into the World Cup squad? Can Dawid Malan bring more than a stodgy start? Can Finn Allen hit the ball into the Trent? Can the Kiwis bowl even faster than Gus Atkinson?
Play starts at 6pm BST, so I'll be back 25 minutes before that with news of the toss and teams.