USA News
Ex-MAGA gun owner issues warning to Republicans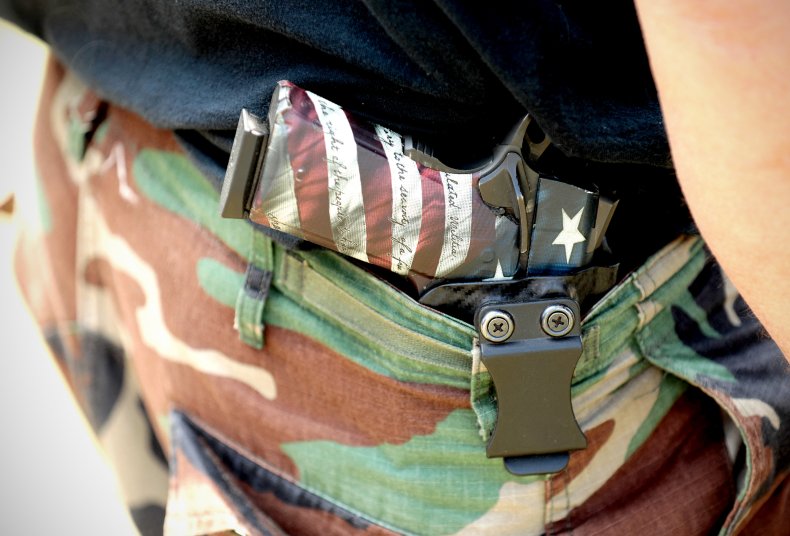 A former member of the Make America Great Again (MAGA) movement recently issued a warning to Republicans who own guns.
In an opinion piece titled "Gun owners: It's time for us to stand up against the Second Amendment death culture," that was published in Salon on Monday, Rich Logis wrote that he previously voted "exclusively for Republicans, including twice for former [President] Donald Trump, and once for [Florida Governor Ron DeSantis, in 2018," and recently renounced his membership to the National Rifle Associated (NRA).
"Responsible gun owners: Are you OK with child sacrifice? I am certain you are not; but if we don't hear from you—loudly and frequently—our necessary voices are suffocated and held hostage by the most politically traumatized voices," Logis, who states in his X, formerly Twitter, bio that he left MAGA, and considers himself "Never Trump and Never DeSantis," wrote.
"I understand and appreciate why gun owners—the large majority of whom are law-abiding—are reluctant to risk the slings and arrows of the Republican Party, the conservative media, right-wing pundits and conspiracy theorists and pundits, and perhaps even their friends and family," he added.
He continued: "I ask gun owners this, respectfully: Which is more uncomfortable— the pain of potential ostracization, or the pain of a nonstop loop of stochastic and targeted terrorism, aided and abetted by an endless supply of handguns and rifles, the latter often equipped these days with 30 bone-shattering rounds per magazine? If you're a parent with school-age children, the fear of a Columbine, Parkland or Uvalde-type event is impossible to fully suppress."
Logis' remarks come after several different mass shooting incidents involving children occurred over the past few years, including ones in Uvalde, Texas; Nashville, Tennessee; and Allen, Texas.
In May 2019, several students and teachers were fatally shot at the Robb Elementary School in Uvalde by 18-year-old gunman Salvador Ramos.
This past March, six people, including three children, were fatally shot by suspect Audrey Hale at The Covenant School in Nashville. Hale, 28, had a manifesto that detailed monthslong plans to commit the attack, according to police.
In addition, 33-year-old gunman Mauricio Garcia fatally shot at least eight individuals, including three children, at the Allen Premium Outlets mall this past May.
According to data from the Gun Violence Archive, which tracks mass shootings as an incident where at least four victims are fatally shot, there have been over 400 mass shooting incidents in 2023 so far.
Logis wrote in his opinion piece: "Those who carry a firearm, such as myself, should be especially vocal: We are the ones who take an unofficial oath to protect our families and innocents. Though the 'good guy with a gun' is more myth than substance, it is true that defensive gun use likely happens on a daily basis, given that Americans own 400 million (or more) guns and several trillion rounds of ammunition."
Newsweek reached out to the NRA via email for comment.
Meanwhile, Representative Marjorie Taylor Greene, a Georgia Republican, said last year that the children in Uvalde could have defended themselves had they been armed with assault weapons marketed to children.
"The kids at Uvalde needed JR-15s to defend themselves from the evil maniac that didn't care about laws. At least they could have defended themselves since no one else did, while their parents were held back by police," she posted to Twitter at the time.
Nick Dyer, Greene's communications director, declined to comment when asked by Newsweek at the time whether the congresswoman supported all elementary school children being armed with assault weapons as a tactic to defend against mass shootings.