USA News
Republican Senator Says McConnell 'Perfectly Capable' Of Being GOP Leader Despite Frozen Episodes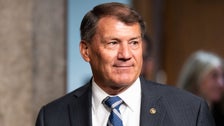 Sen. Mike Rounds (R-S.D.) on Sunday said Mitch McConnell is "perfectly capable" of staying on as Senate minority leader after experiencing a second frozen episode last week.
Rounds said it would be up to McConnell to decide how he wants to address the two public incidents with his conference as well as the American people.
"But there's no doubt in my mind that he is perfectly capable of continuing on at this stage of the game," Rounds told CNN's "State of the Union." "And he's got a good team around him. He's done a good job of developing that leadership team."
Rounds added that McConnell explained that the episodes were a result of the concussion he suffered earlier this year when the two spoke on Saturday afternoon.
"They warned me that I would be lightheaded in the future and that I have got to be aware of it," Rounds recalled McConnell telling him. "He said: 'It happened twice.'"
McConnell froze mid-sentence and appeared unable to restart during a press conference on Capitol Hill in July. He was escorted away by staff but returned to the podium a few minutes later.
Last week, McConnell experienced a similar episode before reporters in Kentucky when he appeared unable to respond to a question about running for reelection in 2026.
The U.S. Capitol attending physician cleared McConnell to return to work, writing that "occasional lightheadedness is not uncommon in concussion recovery and can also be expected as a result of dehydration."
McConnell has reportedly since spoken to his allies in the Senate in an effort to reassure them.
While most Republicans have stood by him, the editors of the conservative magazine National Review called for him to step down.
Republican presidential candidate Nikki Haley said that while McConnell has made significant contributions to the GOP, "you have to know when to leave."
McConnell, 81, in March suffered a concussion and a minor rib fracture after falling at an event in Washington. He returned to the Senate after about six weeks. He also reportedly experienced two additional falls, the first in Helsinki and another at a Washington airport.