USA News
Doctor Releases New Details After Mitch McConnell's Second Alarming Freeze-Up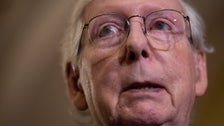 There is no evidence that Senate Minority Leader Mitch McConnell (R-Ky.) experienced a stroke or has a seizure disorder, according to Brian Monahan, the U.S. Capitol attending physician.
In a note released by McConnell's office on Tuesday, Monahan said McConnell was cleared to resume his duties in the Senate after his alarming freeze-up in front of reporters last week, the second such episode he has had in recent weeks.
"My examination of you following your August 30, 2023 brief episode included several medical evaluations: brain MRI imaging, EEG study and consultations with several neurologists for a comprehensive neurology assessment," Monahan said. "There is no evidence that you have a seizure disorder or that you experienced a stroke, TIA or movement disorder such as Parkinson's disease. There are no changes recommended in treatment protocols as you continue recovery from your March 2023 fall."
This is a developing story. Please check back for updates.