World News
North Korea's Kim, Russia's Putin to meet as talk of arms deal heats up: report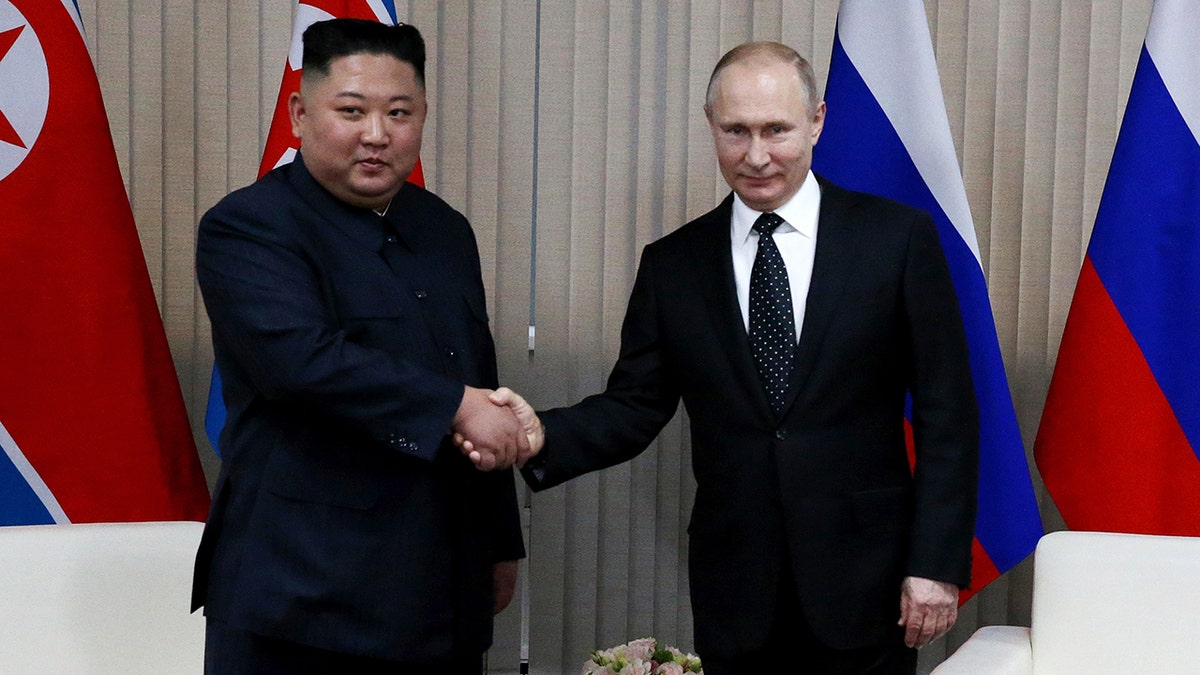 North Korean dictator Kim Jong Un is reportedly scheduled to travel to Russia this month to meet with President Vladimir Putin as the two countries move toward an arms deal. 
The New York Times reported Monday that Kim plans to meet with Putin while both leaders attend the Eastern Economic Forum at Far Eastern Federal University in Vladivostok, Russia. The forum, which encourages international investment in Russia's Far East, is scheduled to run Sept. 10-13. 
Putin wants North Korea to supply Russia with artillery shells and antitank missiles. In exchange, Kim wants Russia to give North Korea advanced technology for satellites and nuclear-powered submarines, sources told the Times. Additionally, Kim wants food aid for his starving nation.
The report comes days after the National Security Council (NSC) said that the U.S. government believes North Korean officials are working to provide the Russian military with weapons amid their invasion of Ukraine.  
NORTH KOREA, RUSSIA ARMS DEAL 'ACTIVELY ADVANCING' SAYS NATIONAL SECURITY COUNCIL
NSC coordinator John Kirby said Wednesday that "arms negotiations" between the two U.S. adversaries were "actively advancing." 
"Following these negotiations, high level discussions may continue in coming months. Now, among these potential deals, Russia would receive significant quantities and multiple types of munitions from the DPRK, which the Russian military plans to use in Ukraine," Kirby said. 
The Times reported that Kim will also visit Pier 33 on his trip to Russia, where Russia docks ships from its Pacific fleet.
In a statement, the White House acknowledged that the U.S. expects "leader-level diplomatic engagement" on the potential arms deal to take place in Russia.
NORTH KOREA SIMULATES MASSIVE 'SCORCHED EARTH' NUCLEAR ATTACK ON SOUTH KOREA, INCLUDES CONQUERING RIVAL
"We urge the D.P.R.K. to cease its arms negotiations with Russia and abide by the public commitments that Pyongyang has made to not provide or sell arms to Russia," an NSC spokeswoman told the Times. 
Russian officials visited North Korea recently and likely established communications for high-level talks regarding the provision of weapons, U.S. intelligence reports.
Officials told the Times that in late August a delegation of nearly 20 North Korean officials traveled to Vladivostok and then flew to Moscow in a reported planning expedition ahead of Kim's visit. 
Kim's regime previously welcomed Russian Defense Minister Sergei Shoigu during his visit to the capital of Pyongyang in July.
NORTH KOREA FIRES 2 BALLISTIC MISSILES INTO SEA AMID US, SOUTH KOREA MILITARY EXERCISES
Kim has gone to great lengths to maintain the strong bond between Putin and himself.
CLICK HERE TO GET THE FOX NEWS APP
Putin, meanwhile, has warmed to the North Korean dictator's regime as a source of military equipment amid worldwide sanctions on Russia following its invasion of Ukraine.
Fox News' Timothy H.J. Nerozzi contributed to this report.