World News
3 lifelong Beatles fans seek to find missing Paul McCartney guitar and solve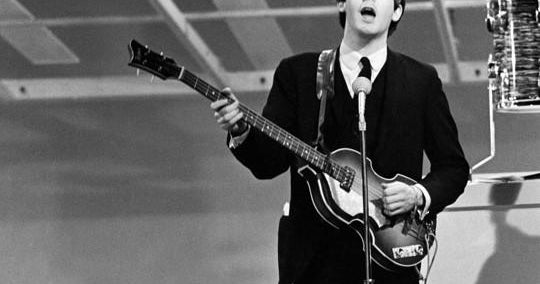 A guitar expert and two journalists have launched a global hunt for a missing bass guitar owned by Paul McCartney, bidding to solve what they brand "the greatest mystery in rock and roll."
The three lifelong Beatles fans are searching for McCartney's original Höfner bass — last seen in London in 1969 — in order to reunite the instrument with the former Fab Four frontman.
McCartney played the instrument throughout the 1960s, including at Hamburg, Germany's Top Ten Club, at the Cavern Club in Liverpool, England and on early Beatles recordings at London's Abbey Road studios.
"This is the search for the most important bass in history — Paul McCartney's original Höfner," the search party says on a website — thelostbass.com — newly-created for the endeavor.
"This is the bass you hear on 'Love Me Do,' 'She Loves You' and 'Twist and Shout.' The bass that powered Beatlemania — and shaped the sound of the modern world."
How McCartney came to buy it
McCartney bought the left-handed Höfner 500/1 Violin Bass for around 30 pounds ($38) ($585 in today's money) in Hamburg in 1961, during The Beatles' four-month residency at the Top Ten Club.
The website quotes McCartney recalling in interviews that, "My dad had always hammered into us never to get into debt because we weren't that rich. (Fellow Beatles) John (Lennon) and George (Harrison) went easily in debt and got beautiful guitars. … All I could really afford was about £30 (30 pounds). So for about £30, I found this Hofner violin bass. And to me, because I was left-handed, it looked less daft because it was symmetrical. I got into that. And once I bought it, I fell in love with it."
An enduring mystery begins
It disappeared without a trace nearly eight years later, in January 1969, when the band was recording the "Get Back/Let It Be" sessions in central London.
By then its appearance was unique — after being overhauled in 1964, including with a complete respray in a three-part dark sunburst polyurethane finish — and it had become McCartney's back-up bass.
The team now hunting for the guitar say it has not been seen since but that "numerous theories and false sightings have occurred over the years."
Appealing for fresh tips on its whereabouts, they insist their mission is "a search, not an investigation," noting all information will be treated confidentially.
"With a little help from our friends — from fans and musicians to collectors and music shops — we can get the bass back to where it once belonged," the trio states on the website.
"Paul McCartney has given us so much over the last 62 years. The Lost Bass project is our chance to give something back."
The team behind the search
Nick Wass, a semi-retired former marketing manager and electric guitar developer for Höfner who co-wrote the definitive book on the Höfner 500/1 Violin Bass, is spearheading the search.
He told CBS News partner network BBC News McCartney 
asked him about the guitar recently — and the effort to find it began.
"It was played in Hamburg, at The Cavern Club, at Abbey Road. Isn't that enough alone to get this bass back?" he said. "I know, because I talked with him about it, that Paul would be so happy — thrilled — if this bass could get back to him."
Wass is joined by journalist husband and wife team Scott and Naomi Jones.
The trio said other previously lost guitars have been found.
John Lennon's Gibson J-160E — which he used to write "I Want To Hold Your Hand" — disappeared during The Beatles' Christmas Show in 1963.
It resurfaced half a century later, then sold at auction for $2.4 million.