UK News
Concrete closure list: The schools affected by crumbling RAAC so far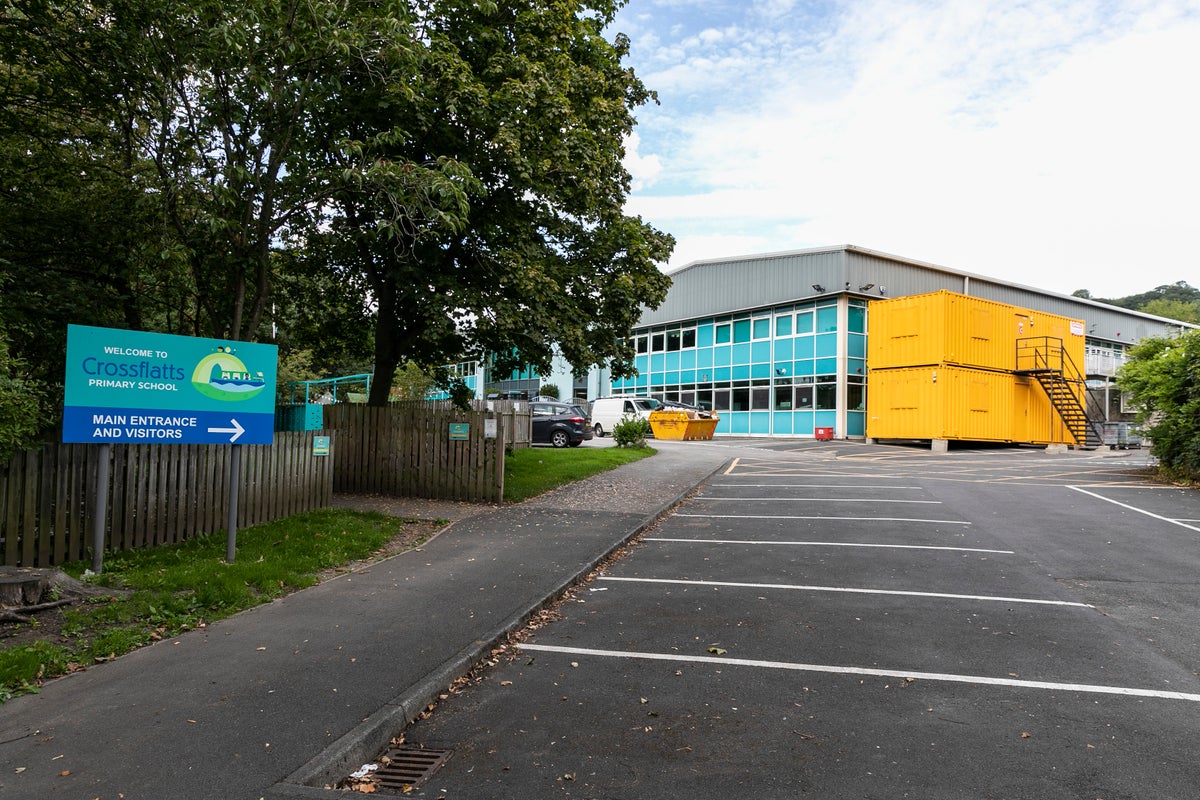 Calls have been made for the Department for Education (DfE) to release the full list of schools that have been ordered to close over safety fears.
Pupils across the country will be forced to resume their studies either online or in temporary facilities after the government ordered more than 100 schools to close immediately following fears over a type of concrete, described as "80 per cent air" and "like an Aero Bar".
Known as reinforced autoclaved aerated concrete (RAAC), the potentially dangerous material was used to construct schools, colleges, and other buildings between the Fifties and mid-Seventies in the UK, but has since been found to be at risk of collapse.
In total, the government said 156 schools were found to contain RAAC, of which 104 require urgent action while 52 have already received repair works. Some 35 schools have been impacted in Scotland, though Scottish First Minister Humza Yousaf said on Saturday there were no plans to close schools there "at this stage".
Education Secretary Gillian Keegan has said the government will begin releasing the names of the schools impacted by the order, but ministers have so far refused to make the list public. Teaching unions have slammed the back-to-school chaos as "nothing short of a scandal".
What schools are impacted?
Here is a running list of the schools in England currently on the "crumbling building" list and, therefore, may be impacted by the DfE order:
Buckhurst Hill Community Primary School, Essex: The school is closed until September 11 while alternative teaching arrangements are organised.
Ferryhill School in County Durham – the secondary school is said to have a delayed start to the new academic year, according to an email sent to parents. They are expected to start a week late with the rest of the classes being taken online
Willowbrook Mead Primary Academy in Leicester – Parents have been told to send their children to two different schools and older pupils were asked for home-schooling.
Corpus Christi Catholic Primary School in Brixton, south London – the school said in a statement the juniors will be relocated to a nearby area.
Crossflats Primary School in Bradford – The school has been partially closed according to Bradford Council.
Eldwick Primary School in Bradford – Bradford Council confirmed the school will be partially closed.
Mayflower Primary School – A Leicester city council spokesman said they are working to "arrange alternative accommodation in order to ensure in-person teaching was able to continue as quickly as possible."
Parks Primary School – alternative accommodation will also be arranged for pupils.
Corpus Christi Catholic School in Brixton Hill, Lambeth was forced to shut before the start of the new term. The school website has said due to RAAC "located in the roof of part of the Junior site has led to a temporary relocation of the Junior pupils in time for the start of term."
Springfield Primary School, Chelmsford – According to a newsletter from July posted on the school website, the school was set to have "four junior classrooms where the roof works have been completed." The school stated Essex County Council were giving temporary classrooms on the junior playground until the rest of the classrooms were completed.
Ravens Academy in Essex – The school website has said it will be closed for two days next week, on 5 and 6 September.
St Clere's School in Essex – In a letter posted on the school website, it said parts of the school will be closed with remote learning "partially implemented" as there is not "enough teaching spaces to host all pupils and students."
Abbey Lane Primary School in Sheffield started work in July to replace the RAAC in the roof over the kitchen, BBC News reports, with alternative meal arrangements now being made for pupils.
The Billericay School in Essex sent a letter to parents on Friday confirming that a "small section" of the school's estate contains RAAC, but added that it is "not in a position where full closure is required."
Canon Slade School in Bolton has closed some areas for safety reasons, according to local press reports.
Clacton County High School in Essex has delayed the beginning of term and is using remote learning in places.
Carmel College and Sixth Form, Darlington has been forced to close its kitchen and library, but the school remains open.
Cockermouth School, Cumbria pupils will need to return to school a day later as Raac was found in four corridors.
Cranbourne College, Basingstoke has had one area closed since the beginning of the year, with temporary works in place in another part of the school. However, it remains open.
Donnington Wood Infants School, Shropshire will remain open after it had extra ceilings added.
East Bergholt High School, Colchester is considering whether to delay reopening or to partially close.
East Tilbury Primary School, Thurrock, Essex: Some parts of the school will be closed, with Year 1 pupils moved to share a block with Reception and Year 2 pupils relocated to the sports hall.
Ferryhill School, County Durham will delay the start of the new school year, with new starters beginning a week late and the rest of the classes taught online.
The Gilberd School, Colchester will remain closed until 11 September for students in years eight, nine, ten and eleven, with year seven pupils returning on 12 September.
Hadleigh High School, Suffolk is also considering a delay to the start of the new term.
Hatfield Peverel Junior School, Essex will be closed until mid-September at the very earliest, with temporary classrooms required.
Haygrove School – Bridgwater
Hockley Primary School, Essex has been closed since 11 June, with some year groups sent to other schools.
Holy Trinity Catholic Academy, Nottinghamshire has identified issues but will remain open.
Honywood School, Colchester will have 22 classrooms closed with immediate effect, with some required to do online learning.
Jerounds Primary School, Essex had Raac detected in the school's kitchen and is now being held up by a steel structure. The school will remain open.
Katherines Primary Academy, Essex has closed its main building.
Kingsdown School, Essex, a special school for children aged from three to 14 years old, has closed its main building.
Mistley Norman, Essex
Our Lady's Catholic High School, Lancashire is closed on Monday and Tuesday.
Outwoods Primary School, North Warwickshire began work earlier in 2023 to install extra support as a precautionary measure, but the school remains open.
Ramsey Academy, Essex has cleared out four classrooms, which are out of use until appropriate safety measures are implemented.
Scalby School, Scarborough
St Bede's Catholic School and Byron Sixth Form College, Easington, Durham
St Francis Catholic Primary School, Ascot
St Gregory's Catholic Science College, London is working to prop up the concrete with supports, but the school remains open.
St James Catholic School, Hebburn
St Leonard's School, County Durham will be closed.
St Teresa's Catholic Primary School, County Durham will be closed until 11 September.
St Thomas More Catholic Comprehensive, London is open, but parts of the school are closed, including the hall, gym, canteen, drama studio, girls and boys toilets. The school will also need to open mobile toilet blocks.
Thameside Primary School, Essex: Expects its reopening to students to be delayed until September 11. Parts of the school have been closed, with a significant number of teaching spaces impacted.
White Hall Academy Primary, Essex told parents on Friday that there will be three non-teaching days.
Winter Gardens Academy, Essex will be vacating parts of the school with immediate effect.
Wood Green Academy, West Midlands will have some classrooms closed until October.
Woodville Primary School, Essex will be closed until 11 September.
Wyburns Primary School, Essex will be closed for up to two weeks.
The Appleton School, Essex is seeing years eight, nine and ten moved to online learning from Wednesday until Friday.
Arthur Bugler Primary School, Thurrock could see the beginning of term delayed until 11 September for students in years four, five and six.
Aston Manor Academy, Birmingham will be closed until 11 September at the earliest.
Ayelsford School, Warwick will, from 4 September, only be open for year seven. All primary school year groups will return on 5 September, and year twelve from 6 September.
The Bromfords School, Essex will see year 12 students return on 6 September, and year 7 on 4 September.
The Cherry Tree Academy, Essex will be closed until 11 September, after an engineer has reviewed the building.
Claydon High School, Suffolk is considering delaying reopening.
Cleeve Park School, Sidcup is to close 4 classrooms, the gym and some admin offices.
The Coopers' Company and Coburn School, Essex will be closed to students on 4 and 5 September.
The Ellen Wilkinson School, London has seen the canteen, science block, old gym and hall vacated.
Farlingaye High School, Suffolk may need to delay the start of term.
Greenway Junior School, Horsham will be closed to students on Tuesday.
The Link School, Surrey will be closed until 11 September.
Myton School, Warwick has delayed the start of term.
Northampton International Academy has restricted the use of the top floor, as well as the staff room and sixth form area.
Parks Primary, Leicester had to relocate several classes in May.
Pershore High School, Worcestershire has closed a temporary building.
Roding Valley High School, Essex will see some students learning from home on 7 and 8 September as the canteen is out of action.
St Anne's Catholic Primary School, Gateshead will not reopen as planned.
St Bartholomew's Catholic Primary School, Kent has shut its hall.
St Benet's Catholic Primary School, County Durham is closed temporarily.
St Bernard's School, Greater Manchester has had Raac identified in several parts of the school, which will reopen on 7 September if the safety work is completed in time.
St James Catholic Primary School, Tyne and Wear has been vacated whilst the school decides on arrangements.
St John Bosco Catholic Primary School, Tyne and Wear will be closed on Tuesday 5 September.
St William of York Catholic Primary School, Greater Manchester will need to relocate several classes.
Tendring Technology College, Essex will see some school years start on 11 September.
Thomas Lord Audley School, Essex has moved 10 out of 47 classrooms out of use.
Thurstable School and Sixth Form, Essex will have online learning on 6 September.
Waddesdon School, Buckinghamshire will see years 9, 10, 11 and 13 taught from home.
This list will be updated as it becomes clear which schools are impacted.
What other buildings are at risk?
The government is also rebuilding seven hospitals due to issues related to "extensive RAAC", schools minister Nick Gibb revealed on Friday.
Asked on BBC Breakfast if other public buildings could be affected, he said: "Right across the public sector, we are surveying the estate.
"You've heard of a court closing at Harrow. We are taking action, of course, in the hospital sector as well.
"Hospitals are very large buildings and they have teams of very expert maintenance people monitoring the building the whole time.
"They use propping where they identify RAAC and also we are rebuilding seven hospitals because of extensive RAAC in those hospitals."
How will I know if my child's school is shutting?
Schools will let parents know directly if there is any change to the start of the term.
On whether all schools affected have now been informed, Mr Gibb told Sky News: "The vast majority have. We have been calling them yesterday, but there are a few more that we're calling today, and those schools are now talking to parents about what's going to happen in their school."
Mr Gibb said the government will release a list of the schools in "due course".
What will happen if my child can't stay at their current school?
If the school your child is attending is forced to close down, pupils may be moved to emergency or longer-term temporary accommodation on a different school site.
Mistley Norman Church of England Primary School, in Manningtree, Essex, was also forced to shut back in April, due to the presence of RAAC.
Children were being taught at Lawford Church of England Primary School, also in Manningtree for the final term, and will now move to be learning in Two Village Church of England Primary School, in Harwich, from September, a message on the school's website said, according to the i newspaper.
What is RAAC concrete?
RAAC is a lightweight form of concrete used in schools, colleges and other building construction from the 1950s until the mid-1990s, according to a government website.
It is made from a combination of cement, lime, water, and an aeration agent. The mixture is poured into moulds and then subjected to high pressure and heat, known as autoclaving, to create a lightweight, strong, and porous material.
Read more on what RAAC is and how to tell if school buildings are at risk of collapse here.
Additional reporting by agencies.