UK News
A Complete Timeline Of Joe Jonas And Sophie Turner's Relationship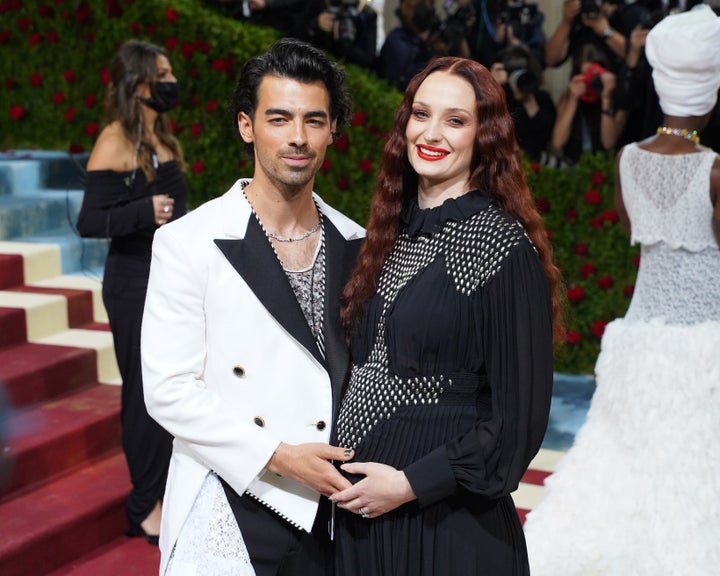 From Taylor Swift and Joe Alwyn to Britney Spears and Sam Asghari, 2023 has truly been the year of the celebrity break-up.
Over the weekend, reports claimed another couple can be added to the growing list of recently-split stars, as Joe Jonas and Sophie Turner have allegedly called time on their marriage after four years.
While they're yet to speak out on the matter (Sophie's rep declined to comment to HuffPost UK and Joe's has not responded), fans are not coping well with the rumours.
As we wait to find out what's happening, take a look back at their relationship timeline…
October 2016: Joe slides into Sophie's DMs
Proving that celebs are (sometimes) just like the rest of us, their relationship began when the Jonas Brothers singer messaged Game Of Thrones star Sophie.
She told Harper's Bazaar UK: "We had a lot of mutual friends. And they'd been trying to introduce us for a long time. We were following each other on Instagram and he direct-messaged me one fine day, out of the blue."
They then met – and instantly hit it off – a few weeks later when Joe was on tour in Sophie's native UK.
December 2016: It's official
Sophie and Joe didn't mess around when it came to arranging dates and after being spotted at a Halloween party and a Kings of Leon gig, Sophie was revealed to have met the rest of the Jonas family on Thanksgiving weekend.
Joe then met Sophie's family in London in early December and by the end of the month, People magazine were reporting that they'd made things exclusive and official.
A source told the US publication: "They're dating exclusively. [Joe] was playing the field, but he really likes her and is willing to settle down for her."
January 2017: Sophie breaks her silence
Joe finally made his debut on Sophie's Instagram as they celebrated the New Year together in Miami.
Keeping the announcement low-key, the actress posted a snap of Joe smoking a cigar on a boat with the caption: "Miami Daze."
September 2017: (Two) new additions
Long before having kids together, Sophie and Joe brought home puppy Porky Basquiat and shared a sweet snap announcing the news on Instagram:
And a few months later, husky Porky's brother, Waldo Picasso, became part of the family too:
October 2017: They're engaged!
The couple announced their happy news with matching Instagram posts (these were the years before joint ones after all).
The news sent fans into overdrive and plenty of the couple's celeb pals (and Joe's famous brothers) shared their joy too.
Nick tweeted: "Ahh! Congratulations to my brother… and sister in law to be on your engagement. I love you both so much."
Sophie opened up on the engagement a few months later, telling Rolling Stone: "It's lovely to be engaged. Not like I achieved anything, but I found my person, like I'd find a house that I love and want to stay in forever.
"There's a sense of peace that comes with finding your person. But there's a drive that comes with your career."
December 2018: A Jonas-Turner Christmas
Sophie took on hosting duties for the festive season and the Jonases got a taste for a classic British Christmas Day as they joined the Game Of Thrones star's loved ones in Warwickshire.
Then-newlyweds Nick Jonas and Priyanka Chopra could be seen in a snap from the special day, which was simply captioned: "Family."
May 2019: The surprise wedding
Joe and Sophie pioneered the post-awards show wedding years before Kourtney Kardashian and Travis Barker's attempted Las Vegas nuptials.
The couple headed to the Nevada city's iconic Little White Wedding Chapel just after the Billboard Music Awards and brought a whole congregation of pals along with them.
The unannounced ceremony was attended by the likes of Joe's brothers Nick and Kevin and their wives Priyanka Chopra and Danielle Jonas, as well as musician Khalid, while Diplo's live-streamed the whole thing on his Instagram account.
"We had to get legally married in the States, so we thought it'd be really fun to get all of our friends, invite them out, and do an impromptu wedding," Joe later told GQ. "And we actually had some people that I didn't really even know that well there."
June 2019: The official wedding
Just one month later, the couple held a decidedly more formal wedding at Le Château de Tourreau in Sarrians, France.
Sophie sported a stunning Louis Vuitton bridal gown and her Game Of Thrones co-star Maisie Williams served as Maid of Honour.
This time around, the wedding took place behind closed doors with the couple sharing just one photo from the big day. While Diplo DJ'ed at the reception, he (wisely) decided against streaming the private affair online.
July 2020: Sophie and Joe welcome a daughter
Sophie and Joe's second wedding set the tone for the rest of their relationship and while Sophie was spotted with what looked like a baby bump, they never actually announced her pregnancy.
Several days after Sophie gave birth, they confirmed the news to People magazine with a simple statement that read: "Sophie Turner and Joe Jonas are delighted to announce the birth of their baby."
It was later revealed that they named her Willa.
May 2022: Sophie's second pregnancy
The couple once again decided not to officially announce their baby news, but the cat was out of the bag when Sophie arrived at the Met Gala proudly clutching her bump.
In an interview published by Elle UK just one day later, she confirmed the happy news and said: "It's what life is about for me — raising the next generation. The greatest thing in life is seeing my daughter go from strength to strength.
"We're so excited to be expanding the family. It's the best blessing ever."
They then confirmed their second daughter's birth as exactly as they did the first – with a simple statement issued to People. The name of their second baby has not been revealed.
September 2023: Split rumours emerge
In a move that has sent shockwaves through both stars' fandoms, TMZ claimed that Joe has retained a divorce lawyer amid a split from Sophie.
The news has come as a huge shock given that just weeks prior, in 13 August, the actor showed support for her husband as he performed with Jonas Brothers and posted a seemingly loved-up snap from backstage at the Yankee Stadium gig.
Fans were then left even more confused as Joe sported his wedding ring (which he had been seen without in recent weeks) on stage just hours after the divorce claim emerged.
So far, neither Joe or Sophie have spoken out on reports about their marriage. Sophie's rep declined to comment when contacted by HuffPost UK, while Joe's spokesperson has not responded.