USA News
'Succession' Creator Breaks Silence On The Show's Biggest Mystery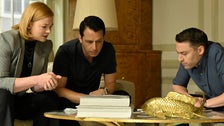 It seems Kendall Roy may have really been Logan's No. 1 boy.
Jesse Armstrong seems to have resolved a lingering mystery from "Succession" — but some fans are aren't ready to toe his line.
The creator of the Emmy-winning HBO drama was asked Saturday at a Financial Times event in London about a line that his character Logan Roy (Brian Cox) wrote on a non-legal document about his dying wishes.
In Episode 4 of the show's fourth and final season, titled "Honeymoon States," Logan's family and friends gather at his home to mourn his death. During the wake, Frank (Peter Friedman), who is the executor of Logan's estate, finds a "rather worrying piece of paper" in a private safe. The typed and undated document, which was written and later annotated by Logan Roy before his death, seems to indicate that he wanted his son Kendall Roy (Jeremy Strong) to be the successor to his media empire, Waystar Royco.
This intention is signified by Logan seeming to underline Kendall's name in the document. But when Kendall's sister, Shiv (Sarah Snook), looks at the paper, she points out that, although the first half of Kendall's name looks underlined, the last part of his name appears to be crossed out. The intention of the line was then debated by the characters and later by fans of the show online.
But Armstrong seemed to settle that debate. In a video posted by journalist Cassam Looch from Armstrong's talk on Saturday, Armstrong gives an answer — although it's about as coy as Logan's etched line.
"If you were going to cross out, you wouldn't start underneath, would you?" Armstrong asked the crowd in response to the question. After he says this, he puts his finger to his temple, making the "think about it" gesture. When someone in the crowd eventually shouts, "Underlined!" Armstrong takes a bow.
But some fans aren't quite buying this explanation — despite Armstrong being the person who wrote the script.