USA News
Internet obsessed at dachshund's reaction to getting a Starbucks pup cup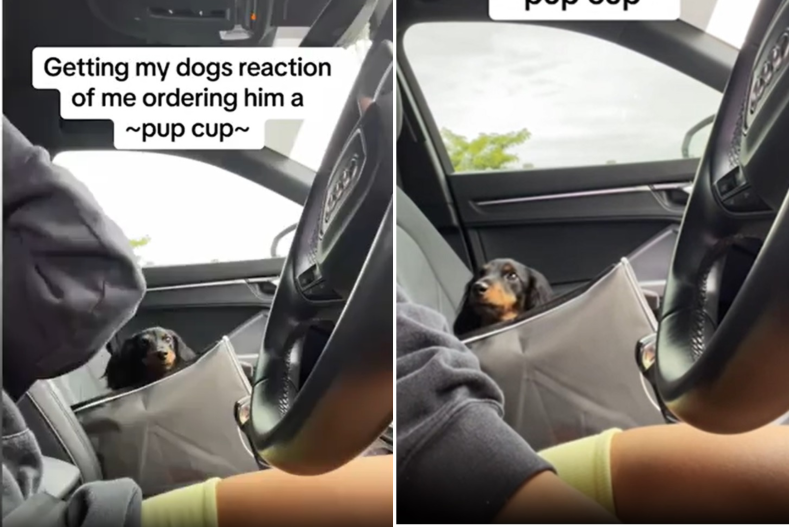 Almost 2 million TikTok users have watched the moment a miniature dachshund realizes he is getting one of his favorite treats.
In a viral video shared to an account dedicated to 2-year-old Bentley, he can be seen patiently sitting in the passenger seat. The calm dog appears to be minding his own business until he hears his owner order a puppuccino. Then his head instantly tilts as he recognizes the magic word.
So far, the adorable clip with the following on-screen text: "Getting my dogs reaction of me ordering him a pup cup," has racked up 226,700 likes since it was shared on August 24.
It seems Bentley isn't the only canine to enjoy the complimentary dollop of whipped cream served in an espresso cup. Previously, Newsweek shared the moment an owner was able to coax their dog out of hiding with the creamy treat.
The puppaccino is part of the "Starbucks secret menu," however it's hardly a secret as social media users often post about it online.
The phenomenon and the corresponding hashtag has over 158 million views on TikTok.
While the tasty treat appears to be heaven for dogs, Spot, a pet insurance company, warns it must be consumed in moderation.
The Miami-based company advises owners to check the ingredients prior to feeding their furry friend. As sugar free whipped cream is likely to contain a sugar substitute called xylitol.
The substance is totally safe for human consumption but can be fatal for dogs, according to the American Kennel Club (AKC).
According to Caroline Coile, AKC Family Dog Nutrition & Health columnist: "The dog's pancreas confuses xylitol with real sugar and releases insulin to store it."
The insulin removes real sugar from the bloodstream and can cause a dog to become weak, have tremors and even seizures within 30 minutes of eating it. Other symptoms of hypoglycemia include poor coordination and vomiting or diarrhea. The AKC states symptoms can take up to eight hours to show up and some dogs may suffer from liver failure that could even result in death.
Fortunately, coffee branches ensure their canine consumers are safe and do not use this type of cream. Otherwise the internet wouldn't be inundated with adorable clips.
At the time of writing, the clip captioned: "His head tilt" has 575 comments.
One user said: "That lil one really just said, 'Today is going to be a great day!'"
Another said: "So precious. Mine insists on ordering his him self. I am glad the Starbucks baristas always understand his demands."
"A pup cup? Oh yes! I shouldn't act desperate to be good!" said another user.