World News
Ukraine's defence minister to be replaced – as Zelenskyy believes 'new approaches' are needed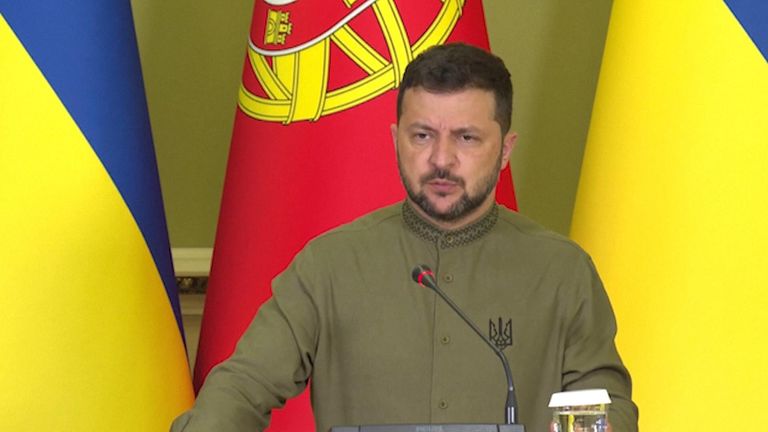 Volodymyr Zelenskyy has announced he will replace his defence minister – marking the biggest political shake-up in Ukraine since the start of Russia's invasion in February 2022.
In his nightly video address to the nation, the Ukrainian president said he would dismiss defence minister Oleksii Reznikov and ask parliament this week to replace him with Rustem Umerov, head of the country's main privatisation fund.
Ukraine war – live updates
Mr Reznikov has been defence minister since November 2021 and had helped secure billions of dollars of Western military aid to help the war effort, but has been dogged by corruption allegations surrounding his ministry that he has described as smears.
Mr Umerov, a 41-year-old former legislator of Crimean Tatar descent, has been at the helm of Ukraine's State Property Fund since September 2022 and has been actively involved in delicate wartime negotiations, including those related to the Black Sea grain deal.
Sky's international correspondent Alex Rossi said the move is "very significant".
"It's clear President Zelenskyy is trying to reverse the narrative – that you are hearing from some Western officials – that it's not going particularly well," he said.
"How does Mr Reznikov's dismissal fit into that? Are we going to see a complete change in the way they go about things?
"There have been significant corruption scandals, there's no accusation against Mr Reznikov but of course he is the man in charge and there were calls for his dismissal."
The decision comes amid a crackdown on corruption in Ukraine that Mr Zelenskyy has been keen to emphasise.
'Everyone understands who is involved'

Kyiv has applied to join the European Union and the public has become highly sensitive to corruption as the war rages with no end in sight.
"I believe the ministry needs new approaches and other formats of interaction with both the military and society as a whole," Mr Zelenskyy said.
An English speaker, Mr Reznikov is seen as having built up a strong rapport with allied defence ministers and military officials. One MP has tipped him as Ukraine's possible new ambassador to London.
Within Ukraine, Mr Reznikov's ministry was accused of buying food at inflated prices.
Click to subscribe to Ukraine War Diaries wherever you get your podcasts
The mini-shuffle comes as two people were admitted to hospital after a Russian drone barrage against port infrastructure in Ukraine's Odesa region, officials have said.
The attack came a day before Russian President Vladimir Putin is due to meet his Turkish counterpart Recep Tayyip Erdogan to discuss the resumption of food shipments from Ukraine under the Black Sea grain agreement Moscow broke off from in July.
Read more:
Ukraine war's UK refugees reveal new lives and near-death experiences
Russia uses '200-year-old strategy' to protect Crimean bridge
Mr Zelenskyy's chief of staff, Andriy Yermak, described the assault as part of a Russian drive "to provoke a food crisis and hunger in the world".
Russian drones hit port in Odesa

Elsewhere, two people were killed and two others hurt during Russian shelling on Sunday on the village of Vuhledar in the Donetsk area.
Artillery fire hit eight settlements across the region, the National Police wrote on Telegram.
Ukrainian prosecutors also said on Sunday that they have opened a war crimes investigation into the death of a police officer killed by Russian shelling on the town of Seredyna-Buda on Saturday.
Two other police officers and one civilian were hurt during the attack, which hit Ukraine's northeastern Sumy region.
A Ukrainian commander earlier told the Guardian his troops had breached Russia's first defensive line near Zaporizhzhia after weeks of painstaking mine clearance.