UK News
Why US consumers may crush Biden's reelection hopes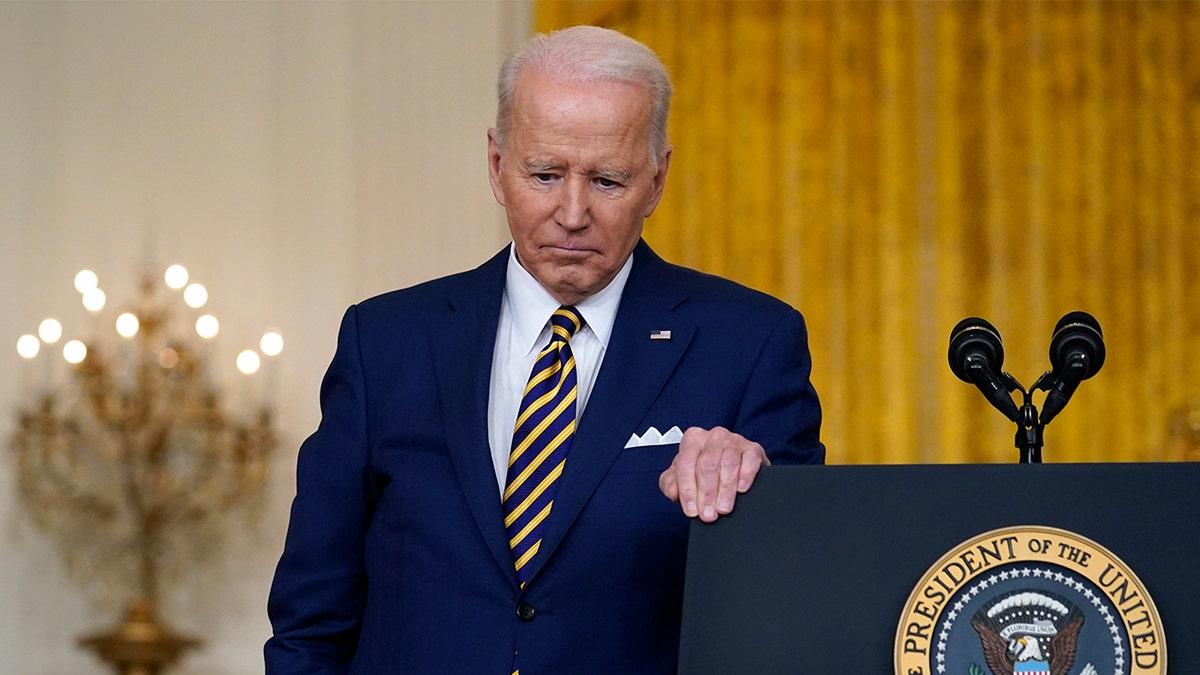 NEWYou can now listen to Fox News articles!
Summer is over. Kids are heading back to school, workers are heading back to their jobs, and the 2024 campaign is heating up. Joe Biden is touting "Bidenomics" to voters, boasting of job gains and, finally, some rise in real income.
But Americans, who have been spending like crazy on vacations, eating out and travel, may be about to rain on Joe's parade. Consumers are stretched financially, having financed their summer holidays and post-pandemic spending by saving less and borrowing more – not a sustainable trend. People have been willing to pile up debt because jobs have been plentiful and they've not worried about a sudden loss of income. That appears to be changing.
Plunging consumer confidence, rising debt delinquencies and a weakening jobs market suggest that the party could soon come to an end, with the economy hitting an unexpected rough patch as we approach election season.  
KAMALA HARRIS SLIP-UP REVEALS HOW BIDENOMICS HURTING AMERICAN FAMILIES
Given that the Real Clear Average of polls on the president's handling of the economy today shows only 38% approving and 58% disapproving, a downturn could clobber his reelection hopes. 
A recession is not the consensus forecast. Despite aggressive interest rate hikes from the Federal Reserve, the economy has remained resilient, mainly thanks to unexpectedly robust hiring.   
But now the jobs market is clearly sputtering, albeit from a frantic pace.  In August employers added 187,000 jobs, far below the monthly average of 271,000 over the past year. While job gains have plummeted, reported additions for recent months have been revised sharply downward. Also, wage gains slowed last month. That is what the Federal Reserve has been hoping to achieve through its aggressive interest rate hikes. The question is, will hiring slow or turn into layoffs? 
Employers across the country have defied prognosticators for months by continuing to add or keep workers even as corporate profits turned down. Companies had struggled to increase staff after the pandemic shutdowns, and were taking no chances of again facing a shortage of labor.
BIDENOMICS IS WORKING? TELL THAT TO MILLIONS IN DEBT AND GOING HUNGRY
If the job market slackens, CEOs will likely change course; that may be happening now. The most recent JOLTS report showed that the number of job openings dropped 338,000 to 8.8 million in July. In addition, the "quits" number fell 7%, signaling less confidence among workers. The number of unemployed persons per job opening, while still very low, has begun to inch higher. 
August unemployment rose to 3.8% from 3.5% in July, partly driven by a welcome increase in labor participation, meaning more people are finally coming off the sidelines and looking for jobs. That increase has been driven by a continued decline in the amount of COVID-related benefits available, including an imminent resumption of interest payments on student loans after a 3-year pause. Labor force participation has climbed to 62.8, not yet reaching the 63.2% level it was before the pandemic.  
Meanwhile, consumer confidence dropped by the most in two years last month, according to the Conference Board.  The board's chief economist noted, "Assessments of the present situation dipped in August on receding optimism around employment conditions: fewer consumers said jobs are "plentiful" and more said jobs are "hard to get." Persistent inflation and rising interest rates on borrowings, with credit card rates now above 20%,  contributed to the gloom. 
The downturn in optimism occurred across nearly all age and income groups.  That lower-income Americans are increasingly pessimistic is no surprise; that group has been especially hard hit by higher prices for necessities like food and rents. 
CLICK HERE FOR MORE FOX NEWS OPINION
A Census Bureau survey recently found that 42% of households that rely on the Supplemental Nutrition Assistance Program (or SNAP) are skipping meals because they cannot afford to buy enough food; another 55% said they were eating less to make ends meet – double the number from the prior year.  
Financial stress is also showing up in rising defaults on consumer debts, and especially on auto loans, which have jumped above 2%. The increase in delinquencies is especially acute among low-income Americans, who hold so-called "subprime" loans. The Washington Post reports: "During the financial crisis, 5 percent of those subprime borrowers were 60 days or more past due on their loans; that number today stands at close to 7 percent…." 
While debt soars to record levels, the amount Americans are saving is plummeting. In July, consumer spending rose 0.8% but incomes only increased 0.2%; the difference reflects increased borrowing and also a drop in the savings rate to 3.5%, way below the historical average of 8.9% from 1959 through 2023 and the 4.7% level recorded in May of this year. 
CLICK HERE TO GET THE FOX NEWS APP
Other worrisome signs are the Conference Board's leading indicator index, a solid forecasting tool, which has declined for 16 months in a row; in August, the downturn accelerated. Also concerning is the inverted yield curve, another reliable predictor of a slowdown with as much as a year lead time.
 Most analysts have thrown in the towel on making pessimistic forecasts, as they have been proved wrong over the past year. But, today's optimistic consensus is worrisome.  As top economist Ed Hyman of ISI continues to remind clients, everything was going great just before the great recession… until it wasn't.
CLICK HERE TO READ MORE FROM LIZ PEEK