UK News
US Open day eight: Keys defeats Pegula, plus Draper and Alcaraz in action – live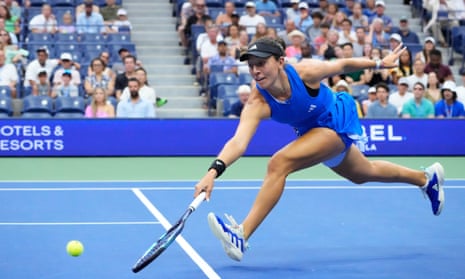 Key events
Next on Armstrong: Jack Draper v Andrey Rublev [8].
No questions about her shoulder, which is annoying, but I imagine she'll be reet.
Vondrousova says Stearns is a very dangerous player with a great future, who started really well. She didn't expect to get to here after "Wimby" so is just trying to enjoy the games and will see what happens next. Even though she faced a home player, she felt the support, and asked how she'll enjoy her day off, reveals her plan to spend the day in bed resting.
Marketa Vondrousova [9] beats Peyton Stearns (3)6-7 6-3 6-2
Despite shoulder-knack, Vondrousova shows her class and moves into her first quarter in New York. There, she'll face Madison Keys in what should be a tremendous tussle; let's hope her bodies is there for her.
Stearns makes 0-15 but Vondrousova quickly levels the game, then an ace takes her two points away. She's not played that well, but the feats or famine nature of Stearns' hitting is perfect for her lefty cunning and consistency.
Next on Ashe: Carlos Alcaraz [1] v Matteo Arnaldi.
Vondrousova holds for 5-1, and Stearns has slowly lost her composure through sets two and three, but she'll learn a lot from it. She's got the ability to make the Wimbledon champ work, but not yet the consistency to best her over the stretch. She does, though, hold to make her opponent serve for the march at 6-7 6-3 5-2.
Keys says it's always tough playing a friend but they've been doing it their whole live, so on court it's all business then they're back to being mates. Asked if she deliberately took pace off today, she jokes that she always slices, drops and comes to the net, then thanks her coach and fiance who, as an ex-player, sees the game really well.
Madison Keys [17] beats Jessica Pegula [3] 6-1 6-3
Look at Madison Keys! Up 30-40, she incites Pegula to net and marches into the last eight, where she'll meet Stearns or Vondrousova.
Vondrousova is a very different thing, but she's also looking a cert for the last eight, making 30-40 whereupon Stearns slaps a forehand wide and that's the double-break restored. Vondrousova leads 6-7 6-3 4-1.
Keys is wiping the floor with Pegula here and – no offence to the latter, who is a fine player – talentwise, that should not be surprising. In 2017 she made the final of this competition only to collapse against her close mate Sloane Stephens, and will feel she's unfinished business here; she holds beautifully for 6-1 5-3 and if she can avoid choking, she's going into the last eight.
I wonder how much the closed roof is helping Keys, who gives it a far harder wallop than Pegula … for all it matters when she seeks consolidation, as she's broken back … before breaking again! Pegula just can't get going, and if she's not quick she'll soon be getting gone, trailing 1-6 3-4. Stearns, though, is still fighting hard, retrieving one of Vondrousova's breaks for a 1-3 third-set deficit.
I said Pegula was playing better and she was, but Keys is playing better than her better and breaks her for 6-1 2-0. And on Armstrong, Vondrousova consolidates then makes 0-30 then, at 30-40, Stearns swipes a forehand wide, and that's the double break! This match feels over, the Wimbledon champ leading 3-0 in the third.
Stearns takes a break between sets and finds herself advantage down, second serve, when she returns, kit changed. This time, her delivery is better, and a backhand down the line facilitates a big forehand that Vondrousova can't return, then Vondrousova nets having earned another break point. Stearns, though, swiftly hands her another, and though she finds a fine first serve as she again seeks to save herself, when she comes in for the putaway, Vondrousova guesses right and thwacks a backhand into the open space for a 1-0 third-set lead.
Pegula, meanwhile, is improving a little holding twice, and now trails Keys 1-6 2-2.
At 40-15, Vondrosova – who has what looks like a shoulder issue and whose serve has consequently dropped in pace – directs an ace out wide, clinching the set, and at 6-7 6-3 we now have ourselves a decider. Stearns 7-6(3) 3-6 Vondrousova
In typical style, Keys stutters to deuce, but then uncorks a prodigious and flat forehand that's too hot for Pegula, who then goes long on the return, and that's a 6-1 set for Keys! Can she stay calm with the last eight within sight? And on Ashe, Vondrousova spanks back a 77mph second serve – in the middle of the box, too – that gives her 0-40, and moments later she's serving for a decider at 5-3. The standard of this one has dropped in the second set.
Actually that's unfair, it's Keys charging away from her – but Vondrousova can't manage similar, allowing just as tame a break as Stearns allowed her, and we're back on serve in set two, the American having taken the first.
Stearns nets a forehand to go down 15-30, the a backhand and Vodrousova has two break points without having done very much, and shortly afterwards she secures a 4-2 lead. On Ashe, meanwhile, Keys makes advantage only to botch her return on 78mph serve; that's old Maddy, is that. But Pegula can't punish her, cedes the break eventually, and finds herself 5-1 down, the set charging away from her.
Keys is playing beautifully and it's so good to see. She's hitting is hard, but what's really impressive is her lengths; she leads 4-1. Meantime, on Armstrong, a bit forehand earns Stearns 30-40, then she skips in to caress a winner that breaks the sideline and at 3-2 we're back on serve in the second, Stearns having taken the first 7-6.
Keys and Vondrousova both consolidate, Vondrousova cementing her hold with an ace down the middle. She was poor in the breaker but is dominating now as Stearns handles the emotional dump of taking it.
And Keys breaks too, leading Pegula 2-0; she's starting to do well in every slam, which shows significant progression.
"Last five service games all held to 30," points out Jim Brady. "Not sure what the odds of that are, but it suggests there is not much in this."
And there isn't – in theory, because Stearns is a set up, which if course is a lot in a three-set match. But as I type, Vondrousova – who held at the start of set two – breaks and now trails 6-7 2-0.
Keys and Pegula are away, Keys holding for 1-0. It may be that Keys' time has passed her by, not because she can't improve but because the era of all manner of player winning majors has gone. Pegula, meanwhile, probably doesn't quite have the weapons to beat the best when it really matters.
And when Vondrousova skips in to attack a short ball, she flaps a forehand long and Stearns leads by one set to love! Stearns 7-6(3) Vondrousova
Stearns opens with an ace, then wins the longest rally of the match – 19 shots – for 2-2. And she takes the first mini-break at 4-2, improving her position to 5-3 and slamming down an ace for 6-3 as I try to get Pegula v Keyes working.
Vondrousova now holds to 30, and after 51 minutes, we've got that breaker. Here it comes!
Vondrousova makes Stearns fight for her hold, but she clinches it to 30, clenching fist and grimacing. It's the older woman now playing the better stuff, but in a breaker I'd always fancy the bigger hitter – but first, Vondrousova has to force one.
Vondrousova looks into this but then at 30-0 sends down a double prior to overhitting a forehand. Then, when she makes 40-30 the roof closes – there's rain about – which I imagine will help Stearns, who hits it harder. But a fine forehand pass down the line, after Stearns doesn't do enough with her approach, takes us to 5-5.
Vondrousova levels it up at 4-4, then Stearns tamely nets a forehand that gives her a sniff at 40-30; no matter. She quickly finishes her final game-point with a forehand meaning her opponent must now serv at 4-5 to stay in the first set.
Righto, first test: Vondrousova makes 15-40 and breaking here, without really having started playing, would be typical her. And when Stearns nets a forehand, we're back on serve and she leads 4-3.
Vondrousova has to plough through deuce for her latest hold – she trails 4-2 – and the look on her coupon suggests she's a little befuddled, whether by Stearns or the intense heat. Laura Robson was saying she thinks Stearns will become one of the best players in the world and you can see the mental aspect of endeavour and entitlement is right there.
Nice from Steans, who finds herself down 0-30 after Vondrousova flattens things out but responds to take the game from there. She really knows what' she's doing and it's the Wimbledon champ trying to work her out while she plays her natural game.
One of the more adorable sorry not sorries.
Already, Vondrousova is mixing it up, taking pace off in a bid to quell Stearns' fire. I imagine she'll also target the backhand as it's the weaker flank and she's a lefty, but so far it's not yet the case. Vondrousova holds to 30 and is on the board at 1-3.
Of course, after the elimination of Swiatek, all the players left in the draw will be looking at who's left and wondering if this might be for them. Strangely, Coco Gauff is now favourite according to my bookie – I'd back Sabalenka, who'll now be world no1 at the end of this, because I don't think anyone has an answer to her power-game. Stearns consolidates – through deuce, but still looking good – to lead 3-0.
A double and a forehand winner help Stearns to 15-40, and though she then goes long, Vondrousova doesn't do enough with a short ball so winds up swiping wide after Steanrs leaps back into the rally. The youngster breaks and leads 2-0.
Stearns opens with an ace down the T, then ends a rally with a terrific shoulder-high backhand down the line. She holds to 30 and looks nicely settled.
And away we go, Stearns to serve.
Vondrousova's lost just 10 games in making it to here – again, unnoticed, having not yet played on Ashe – and looks so calm. Stearns, on the other hand, is a proper old skool-style competitor, and will doubtless be noising herself up with the Labor Day crowd behind her.
Sterans and Vondrousova make their way onto court, and play is but a few moments away.
I mentioned Ostapenko below, and here she is explaining how she beat Iga Swiatek last evening. When she's playing well, I'm not sure there's anyone I'd rather watch, and even when not, her commitment to leaving it all out there is a lot of what I love about sport.
What's up dudes! Welcome to the US Open 2023 – day eight!
And what a day this promises to be. We begin on Armstrong with Marketa Vondrousova, the Wimbledon champion, who meets Peyton Stearns, the 21-year-old American. Though Stearns has made it this far without facing a seed, she beat Jelena Ostapenko – the woman of the moment and former French Open winner – at Roland-Garros, and nothing we know of her suggests she'll shrink on the big occasion.
An hour later, we get going on Ashe, where Madison Keys – who's sat about watching worse players win majors – meets Jessica Pegula knowing that if she brings her best self, she almost definitely wins and, –with the winner of the first match waiting in the quarters – has a decent shot at that too. Pegula, meanwhile, upped it in the decider to beat Elina Svitolina in the last round and, in the form of her life, will be desperate to improve on her last-eight Grand Slam best.
Following them, Carlos Alcaraz meets Matteo Arnaldi, the young conqueror of Cameron Norrie who's also beaten Casper Ruud on clay. If it seems unlikely he can upset the world number one, second on Armstrong offers a better chance of a surprise with Jack Draper facing Andrey Rublev, another who, like Pegula, is established among the elite but struggling to take the next step.
And still there's more! Third on Armstrong isOns Jabeur, who continues her quest for a major, any major, against Qinwen Zheng, before the day sesh concludes with Daniil Medvedev's match against Alex de Minaur. Let's go dudes!