UK News
Putin And Kim Jong-Un Are Set To Discuss An Arms Deal. What Does That Mean For The Ukraine War?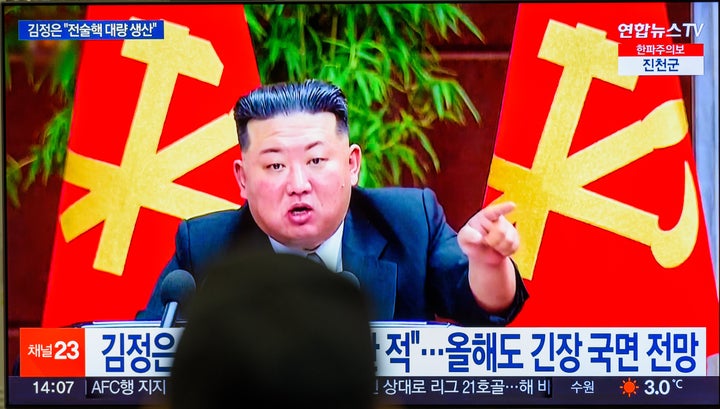 Vladimir Putin is expected to meet Kim Jong-un in Russia to discuss an arms deal in what could become a pivotal moment in the ongoing Ukraine war.
Here's why the meeting between the Russian president and North Korean leader could prove to be so significant – and what such a plan tells us about the conflict between Moscow and Kyiv.
What's happening?
Later this month, Kim is expected to make a rare trip out of North Korea to meet his Russian counterpart, for discussions on possibly supplying Moscow with weapons.
The two men are expected to meet in the Russian port city of Vladivostok – much closer to North Korea than the capital, and Kim's first stop for his 2019 visit to Russia – but further details are still unclear.
The New York Times reported that this information first came from an anonymous US official.
Putin reportedly wants Kim to send artillery shells and antitank missiles, while Kim wants advanced technology for satellite and nuclear power submarines, along with food aid for his struggling country.
Both are already set to attend Vladivostok's Eastern Economic Forum between September 10 and 13, officials claim.
US national security council spokesperson Adrienne Watson then pointed out that the Russian defence minister Sergei Shoigu made a trip to North Korea to push for more weapons for Moscow's war effort back in July.
Watson later revealed: "We have information that Kim Jong-un expects these discussions to continue, to include leader-level diplomatic engagement in Russia."
These reports of such a meeting come after a long effort from the West to try an discourage North Korea from engaging with such arms negotiations. After all, the country has repeatedly promised not to provide or sell arms to Russia.
Why is this a big deal?
A WhiteHouse spokesman, John F Kirby said that the talks on military cooperation between them were "actively advancing".
Such a meeting suggests relations between the two countries are moving faster than previously anticipated, an alliance which could end up rocking the international stage.
The US has been actually been trying to dissuade of the countries (such as China, Iran and North Korea) from supplying Russia ever since war broke out.
This tactic has already failed somewhat – Iran is already supplying drones to Russian and offering to build a drone factory in the country, although the US said Tehran has canned plans to provide ballistic missiles to Russia for now.
What can this tell us about Putin?
According to retired Lieutenant General Mark Hertling, Putin's attempts to organise this meeting is a sign that he is "scrambling for help" amid growing isolation.
He told CNN on Monday: "They're also two desperate leaders of the world's most noted pariah states. This will generate a lot of attention."
Putin is also in need of weapons, and soon, according to reports (including those from the UK's ministry of defence).
There's a chance that North Korea's weapons are copies of Soviet era weapons, too, according to The Independent, which could mean Russian troops wouldn't have to be retrained on them.
Retired major general James "Spider" Marks also told CNN that Russia is in a "desperate" position and this is just a "tactical" move.
Ukraine has finally made some breakthroughs on the frontline with its new counteroffensive, (according to Kyiv), so that may also have spurred the Russian president to seek further assurances elsewhere.
Buying munitions from North Korea would be a violation of UN resolutions, too, because the organisation banned all arms trades with the country years ago.
What does this tell us about the Ukraine war?
The alleged meeting has commentators and critics wondering how this might have a knock-on effect for the war. Could it swing the outcome in Russia's favour?
"There's nothing strategic about a long-term relationship with North Korea unless, Russia wants to have a very provocative partner that will do some dirty work and will allow Russia to reap the benefits of that," Marks told CNN's Situation Room.
John Everard, the UK's ambassador to North Korea from 2006 to 2008, even told the BBC that the country's weapons stockpiles are "in very poor condition".
Similarly, Du Hyeogyn Cha, an analyst at Seoul's Asan Institute for Policy Studies, told The Independent that North Korea could not send a lot of weapons anyway because of the small land between them.
But, former head of Seoul's Korea Institute for National Unification, Kim Taewoo, told the newspaper did say that it shows how keen Moscow is for more outside help.
He added: "Russia is in urgent need of (war supplies). If not, how could the defence minister of a powerful country at war come to a small country like North Korea?"
He also pointed out that Shoigu was the first Russian defence minister to visit North Korea since the Soviet Union fell in 1991.
What can this tell us about Kim?
Marks suggested that Kim was now looking for a partner, following China's decision to distance itself from the country.
Kim is also facing more isolation as South Korea, US and Japan pull together – all while North Korea is still struggling to revive its economy after the pandemic.
It would be a strategic win for the country too, a sign of boosting international importance and an opportunity to move away from the US interference.
"Kim Jong-un is jumping on the 'new Cold War' bandwagon.
"There is no better time for him to elevate his relevance by aligning closely with Russia," Sung Ki-young, an analyst for the think tank at the Institute for National Security Strategy, told the New York Times.
After all, North Korea has not taken part in any joint military drills with another country since the Korean war ended via a truce in the 1953.
Russia may also be able to give North Korea key technologies to help its weapon programmes, too, including its military spy weaponry or its nuclear devices.