UK News
What Is RAAC And Why Are Schools Worried About It?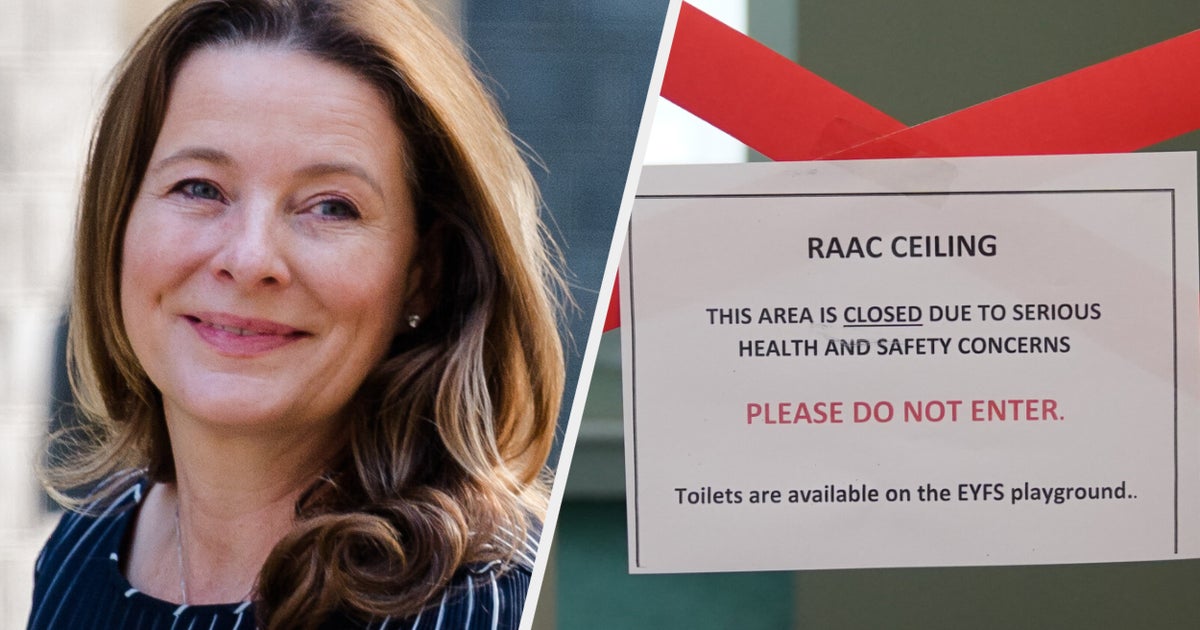 More than 100 schools in England have closed amid fears any buildings made from a particular type of concrete are at risk of collapse.
Days before pupils across the country were set to return to school after the summer holidays, the government has announced some won't reopen for the new term.
Here's everything you need to know about RAAC, the concrete in question.
What is RAAC?
RAAC stands for reinforced autoclaved aerated concrete, and tends to have air bubbles in the material.
It is a lightweight material which was used mostly in flat roofing but it has been used in floors and walls, too.
What does RAAC look like?
But, it's unlikely you'll be able to spot it if you walk around a building because it's usually coated or concealed with plaster, as you can see in this clip from BBC Breakfast.
Why is it so dangerous?
RAAC is significantly more dangerous than regular concrete because it is less durable, less able to cope with moisture, and can only last 30 years.
If water gets into the air bubbles, the bar which holds it up can end up rotting and weakening – and even the coating material is susceptible to decay – meaning it could fall down with little advance warning.
Why was RAAC used in the first place?
It was especially popular between the 50s and 90s because it is a cheaper version of the usual type of concrete used for buildings, while also being quicker to produce and easier to install.
And the risks that come with RAAC were only realised recently, after the roof of a primary school in Kent collapsed back in 2018.
Then in 2021, the Office of Government Property sent out a formal warning notice about the material, saying it was "now life-expired and liable to collapse".
However, in the years since, the government has faced growing criticism for not acting on the health and safety hazard.
How many schools may now be affected by RAAC?
The education secretary claimed that out of 22,500 schools in England, 156 have been confirmed to have the dangerous form of concrete – and 52 have mitigations in place already.
However, Gillian Keegan has also confirmed that there are plenty of schools yet to submit their surveys saying whether or not they suspect RAAC in their buildings, so the government is sending surveyors out to these establishments to check.
The government is yet to issue a full list of schools closed due to the safety concerns, with Keegan claiming it will come out later this week.
Can RAAC cause asbestos?
Asbestos is the umbrella term for naturally occurring minerals which can crystallise to create fibres which are strong, heat and chemical resistant and don't dissolve in water or evaporate. But, when moved or exposed, it can release smaller fibres which can trigger cancer, particularly in the lungs.
The decades between 50s and 90s was a boom time for asbestos, until it was finally banned due its dangerous properties when inhaled.
But, this does mean that asbestos could be exposed and disturbed in buildings where RAAC is crumbling away – possibly meaning the minerals may become toxic.
Asbestos is still present in at least 300,000 non-domestic UK buildings, too.
Who is responsible for this crisis?
Keegan was quick to remind broadcasters on Monday morning that local authorities are actually responsible for school structures – but she had acted with extra caution in this instance, and wanted a centralised response to the RAAC scandal.
Rishi Sunak has also claimed that it is not the government's fault and that he is not to blame, despite cutting the schools' repair budget by half when he was chancellor.
His reaction came after the former permanent secretary for the department for education blamed Sunak for not wanting to give them more funding when he was in the Treasury.
The now-prime minister told Sky News: "That was completely and utterly wrong."
He said he announced a 10-year rebuilding programme for 500 schools when he first got the top job back in 2020.
But, eyebrows are also being raised about actions the Conservatives took during the coalition government of 2010-2015, where then-PM David Cameron ended Labour's Building Schools for the Future scheme.
Questions remain as to why the crisis is only being addressed now, as RAAC has long been a concern.
The government has claimed that new evidence about the unsafe material emerged in late August – which is they've decided any schools with RAAC found in them have to be taken out of use, until mitigation decisions are made.
When will the RAAC crisis be resolved?
Mitigating measures can include using portable classrooms or reinforcing buildings, but the exact timeline and the total costs of fixing the problem remain unclear.
Chancellor Jeremy Hunt has said the government will pay for mitigating measures and "we will spend what it takes".
It's also not clear if there will be new funding for longer term building work.